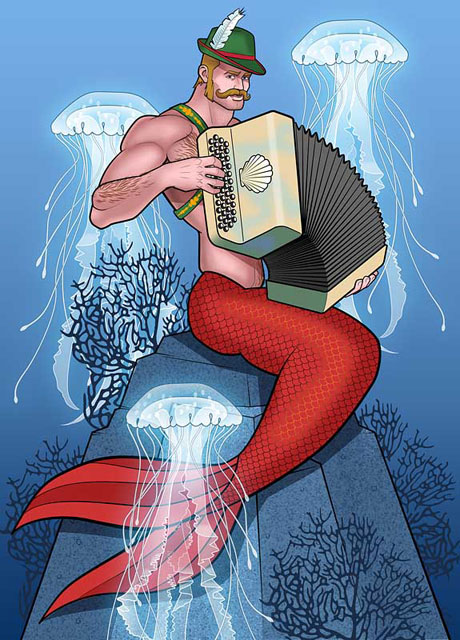 [dropcap]W[/dropcap]eHo's Plummer Park was most recently on my radar because last fall the Audubon Society – the nature conservationist group named in honor of the seminal American wildlife artist – was being ousted from their headquarters there after 75 years. This weekend, the park plays host to a somewhat different strain of wildlife art, in the form of the Tom of Finland Foundation's annual Erotic Art Fair, now in its 17th year.
The TOFF was founded in 1984 by Durk Dehner and Touko Laaksonen — AKA Tom of Finland, the iconic illustrator of homoerotic fetishism whose impact on gay culture began in the 50's. Tom's influence eventually expanded to include significant mainstream art world acceptance and, arguably, a hand in reconfiguring our entire society's understanding of the visual symbolism of masculinity.
It's hard not to compare this weekend's TOFF Erotic Art Fair with the mainstream Art Platform Fair happening simultaneously over in Santa Monica. Both extravaganzas share the same template in essence – a weekend-long popup marketplace where various purveyors of collectable artifacts try to outdo each other, punctuated by some serious partying. So far, so good.
But the mainstream art world where Art Platform operates — as it has evolved over the last few decades, at least — is in many ways a closeted, hypocritical version of the openly libidinous aesthetics of the Erotic Art community. Having officially disavowed aesthetic pleasure (and pretty much all other qualitative criteria) sometime around 1970, The Art World has since had to pursue its sensual pleasures on the QT, devising elaborate post-structural theoretical excuses for moony figurative paintings of half-naked young'uns or Mapplethorpe's photo of a whip handle in a butthole. It ain't rocket science, people!
As a result, most of the art bandied about The Art World — including Art Platform — is profoundly unstimulating on all levels. Now, the stimuli on offer at the TOFF Fair may only appeal to a narrow range of possible human responses — we're talking boners here — but it does so unapologetically. And is it really that narrow? The history of "art" corresponds exactly with the history of "pornography" – right back to the Venus of Hohle Fels, the oldest work of figurative art in mankind's history, and erotic as all get-out.
It's no wonder Benedikt Taschen devotes as much of his publishing energies to preserving and disseminating the history of Erotic Art as he does to the conventional canon of Fine Art Masters. Erotic Art is almost exclusively pictorial — you don't see much abstract stroke art — and has developed a complex visual argot of its own, owing much to Tom's innovations. Many of the TOFF artists share his selectively distorted, photorealist utilitarianism — a highly developed art style unto itself, and worthy of careful inspection.
Other artists' work operate in the grey area between the mainstream and the underground — Rob Clarke's leather mermen and St. Sebastian unicorn pony-boys could easily be tweaked into something from the oeuvres of James Gobel or The Reverend Ethan Acres; Richard Johnson's paintings are washy, archetypal updates of painting's Paleolithic origins; Michael Kirwan's mannered cartoon grotesqueries resemble something Mike Kelley might have done on his day off.
Speaking of Kelley, the late LA art superstar was one alleged pillar of the Art World who recognized Erotic Art's power and sincerity – as early as 1985, as a new professor at CalArts, he invited Tom of Finland as a guest lecturer – the video's on YouTube. I'm guessing Mike probably wished he could have been Tom of Finland. And since most of the artists at Art Platform wish they could have been Mike Kelley, it looks like we have a winner!
[hr]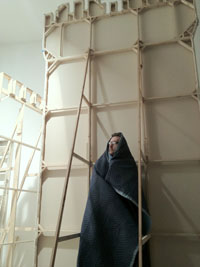 About Doug:
Doug Harvey is an artist, writer and critic, independent curator, and educator who lives and works in Los Angeles. He has dual openings in Chinatown this weekend (Saturday, Sept. 29, 2012) as part of Artmageddon – a new chapter of his collage novel The Cybernetic Angel in The small Loop Show curated by China Adams at FOCA, and a rare screening of his moldy slide collection in Translucent Travels at Automota. He recently participated in the group show WinnePig at Antebellum, LA's premier fetish gallery. His other activities may be monitored online at www.dougharvey.blogspot.com and www.dougharvey.la.
Photo: Doug Harvey huddles behind Steve Hurd's
"Kingdom" — on view starting this Sunday (Sept. 30, 2012)
at the LA Municipal Gallery Barnsdall Park as part of the 2012 COLA show.