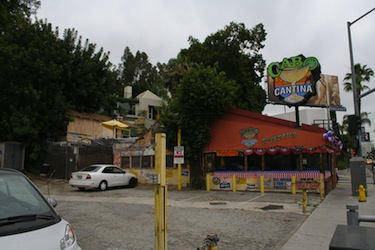 The building now occupied by Cabo Cantina on Sunset Boulevard was built in 1946 and has had its share of interesting owners. Ever Wonder what other lives it has had?
Long a restaurant, this spot has offered hamburgers and Cajun and Mexican food, but is most famous for its life as The Source, a restaurant that mixed vegetarian cuisine with spirituality, psychedelic music and a cult commune.
Father Yod (aka Jim Baker), patriach of The Source Family, opened The Source Restaurant in 1969. A cult-like commune of about 140, The Source Family shared a Los Feliz mansion, promoted a natural vegetarian diet, abstained (apparently) from drugs and alcohol and tried to set up a utopia that would survive what was seen (understandably in the 1970s) as an inevitable nuclear apocalypse.
The Source Family had official non-profit religious organization status and was financially self-sufficient thanks to the success of the restaurant and other business endeavors that included a graphic design agency called Source Arts and the sale of albums by their improvisational psychedelic band YaHoWa13, who often performed at the restaurant.
Father Yod, with his crisp white suits, full snowy beard, gleaming Rolls Royce and young girl groupies, was as much a rock star and fashion icon as he was a restauranteur and spiritual leader.
A highly charismatic man of varied talents, Yod is reported to have been a Marine, jiu jitsu master, Hollywood stuntman … and killer. His record includes a 1955 justifiable homicide and 1963 manslaughter conviction, stemming from arguments over a dog and another man's wife, respectively.
What is more, The Source was not Father Yod's first health-centric restaurant. He was also responsible for the Aware Inn, which opened in 1957, making it one of the first (if not the first) organic restaurants. In addition, he opened the Old World restaurant — famous for its veggie burgers. All three restaurants were on Sunset Boulevard in West Hollywood, making our city a birthplace of the organic, vegetarian and health-food movements.
The Source Restaurant sold at the end of 1974, at which time The Family moved to Hawaii. The inimitable Father Yod died the following year (in rock star fashion) crashing a hang-glider head-first into an Oahu beach.
The Source Family and their restaurant are back in the spotlight with a recent documentary on the group, "The Source Family." The film screened at Cinefamily alongside a pop-up vegetarian restaurant, and can now be seen (sans the food) at Sundance Cinemas, which is just up the street from the restaurant's original location.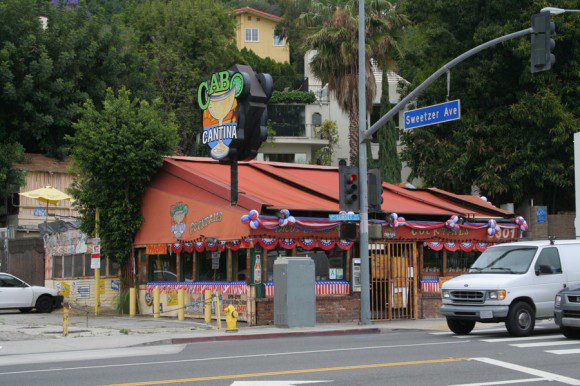 Today, with every surface of the restaurant painted with tromp l'oeil tramps and bamboo shoots, little remains of the white-robed hippies who served up sprouts to the likes of Marlon Brando and John Lennon.
But above the restaurant there once existed a low-ceilinged sanctum, a loft accessible only by ladder, lined in billowing brocade and clouded with incense, where Father Yod would meditate with his wives.
Does this room still exist? A secret retreat of hippy-scented contemplation above the sombrero wearing, shot-slamming sports bar scene below?
Just the idea, surreal and secretive, is delicious enough.