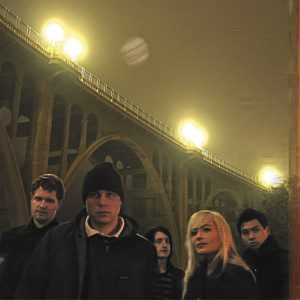 At WEHOville, we love to support local talent. This week is no different as we spotlight the Pasadena-based quintet Ozma, which performs with Nerf Herder on Friday night at the Troubadour.
Ozma has a fun and honest vibe, with harmonious and heartfelt songs. Aside from the obvious comparisons to Rivers Cuomo, listeners can also hear similarities to John Lennon.
In our interview with bassist and vocalist Daniel Brummel, he talked about the band's upcoming show, current side projects, the group's history with Weezer and what the Los Angeles music scene is lacking.
Question: How long has Ozma been together?
Answer: "Ozma was our first real project, formed September of 1995. I was 14. I think we're lucky that it got pretty successful early on. Nowadays we have all branched out into separate projects and come back to Ozma because the fan base is already developed. This time around, it's truly all about the fans."
Q: Who are your bandmates?
A: "There are five of us, Ryen on guitar, Jose is our other guitarist, Kenn Shane is the drummer and Star Wick is our keyboardist (she plays flute sometimes). Star's started to sing more. We'll try and work her in."
Q: Who does most of the writing in the band?
A: "Most of the writing duties are shared between myself and the guitarist, Ryen Slegr. The other guitarist, Jose [Galvez], will occasionally contribute. We'll decide what generally makes the cut."
Q: So what is the band's fascination with the "Back to the Future" Trilogy?
A: "It was a large influence on us early on especially. If you dig through the back catalogue there's numerous references to characters and lines from the films. I think in general, it was the futuristic sense of cyclicity and synchronicity. It was impressive to us as youngsters. A lot of them were shot in and around Pasadena, so that seemed special for us."
Q: What's the deal with your wacky name?
A: "We went through tons of names. We were putting out our first four-song demo tape, recorded on cassette four tracks when we were teenagers and wanted something to print on it. We looked on our drummer's mother's bookshelf and there sat "Ozma of Oz" by L. Frank Baum. It represents the Princess Ozma, inside of whom the entire universe of Oz is located in her belly. It had a sort of mystical and phantasmagorical connotation."
Q: What did you call yourselves before it was Ozma?
A: "We called ourselves Sheriff Bob for a while and we also had the name Power Cool for a moment, and the Cosmic Egg."
Q: Is there a new record in the works?
A: "Our most recent record came out in 2007, called 'Pasadena.' Right now, we are stockpiling new material for an album we have not yet begun recording, hoping that it will be available in springtime of next year."
Q: Have you ever played the Troubadour before?
A: "I think this is maybe our 10th or 11th time. The Troubadour is hands down my favorite venue in Los Angeles. They've got a history of helping bands rise above the crowd in L.A. Even John Lennon got thrown out of there. It's just an amazing, mystical wooden temple.
Q: Could you tell us a Troubadour story?
A: "I remember we toured with Weezer a couple times and at one time, we were playing across town at the Roxy on the same day as their show at the Troubadour. They wanted to hear our new demo, to see if they would take us on tour. I had to jet over from the Roxy to the Troubadour to hand off a demo to Rivers (Cuomo). It was cool seeing them load in the big 'W' with all the lightbulbs on it."
Q: Do you have any side projects?
A: "I joined a band called Spain, playing guitar with a guy named Josh Hayden. For a while, Ozma was kind of dark, we weren't doing anything, so I started a new group called Sanglorians. Our first record is about to come out, it's being mixed now. We all wanted to keep busy in the years that we weren't so active. Now we're comin' back to it. Everything goes in cycles."
Q: What does music mean to you?
A: "I love Vampire Weekend but I did see them on SNL recently and it was like a ton of effects happening and manipulation of his voice and blips and blops and funny tones. I was just left wondering, 'Where's the party, the good vibe, the harmony? Where's the foundation?' Music should be a gift to people, it shouldn't be an exercise in gimmickry. I think lots of bands are basically pop stars and fashion idols. We'll play around with that but it's more about being authentic with who we are and representing the plight of the uncool."
Q: Why do you play music?
A: "We were just born to do it. Animal instinct. We just love it. It's part of us, it's harmony, it's inside us. It gets us off like good food or sex or drugs. It's fantastic, music is beautiful."
Q: Do you use any special recording techniques to get your sound?
A: "We like double-tracking guitars and keeping our big rock guitars loud in the mix. I like multi-tracking the lead vocals, lot's of vocal harmonies. I am into the double drum thing, two separate drum tracks, panning one left and one right."
Q: Do you have any social beliefs?
A: "I believe that it's extremely important to be kind on a one-to-one personal, social level. I exercise compassion. I like to expand my mind through meditation and exercises in presence taken from the Sufis and the Tibetan Buddhists"
Q: What do you think of the music scene in Los Angeles?
A: "I love the Troubadour. I love the owners, the vibe in the room. Outside of that, the music scene in Los Angeles is a little too competitive and fashion oriented for my taste. I feel like it's lacking some authenticity. A band called Body Parts and Races are two of my favorite bands in town. Anytime I see some real music happening in L.A. I try to latch onto it and support it."