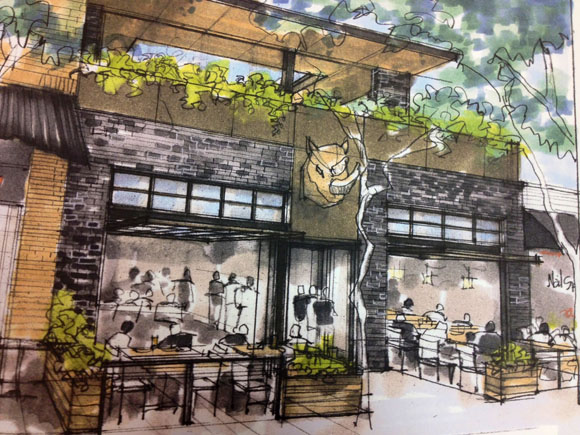 Adventurous eaters will be able to sink their teeth into fresh game such as duck, venison and ostrich at The Horn, a restaurant, bar and lounge opening later this year. The eatery will be located at 8933 Santa Monica Blvd. just east of Robertson, at the former Marvin's Pharmacy space.
Co-owners Daniel Cammarata and Adam Klesh, both former New Yorkers, say their goal is to "bring a little bit of New York to WeHo" with a New York-style steakhouse.
They see the menu as "Mom's comfort food" with an outside-the-box twist: international fresh game. They tout fresh game such as venison as healthier than beef and pork — although they'll also serve more traditional dishes for guests with less exotic tastes. The game menu will rotate based on what is available fresh, they said, and they won't buy from large-scale farming operations.
In addition to its lunch and dinner offerings, The Horn will have a late-night menu with food served until 2 a.m. Guests will sip after-dinner cocktails on a a rooftop lounge, which will also be used for "large and hearty weekend brunches" with fare such as French toast and mimosas.
Klesh will be the general manager of The Horn, which will open its doors this fall. The restaurants takes its name from Klesh's collection of rhino-themed objects from 37 countries; some of his collection will be on display.
Klesh and Cammarata are longtime friends who decided to go into business together. They formed DADAM Design, which is the parent company of The Horn.
The Horn is their first venture in which the pair have full ownership, rather than being outside contractors. Although they describe The Horn as "very much pop and pop," they have dreams of growing their business in the coming years to include additional restaurants as well as a boutique hotel.
The addition of The Horn Steakhouse to Boystown adds yet another nightlife option to the area. Cooley's, a restaurant and bar from Abbey President David Cooley, is currently under construction across the street, and also in the works is Lisa Vanderpump's second WeHo restaurant and lounge concept on the corner of Santa Monica and Robertson boulevards, to be named P.U.M.P.
Along with Mother Lode bar, which is in between P.U.M.P. and Cooley's bar, a massive cluster of nightlife venues will dominate the southeast corner of Robertson and Santa Monica boulevards.