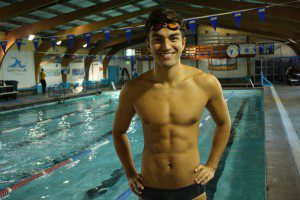 Openly gay Olympic swimmer Amini Fonua will be among those competing at the LA Gay and Lesbian Center's Beach Classic on Sept. 14, the Center announced Tuesday.
Fonua, who competed in the men's 100 meter breaststroke at the 2012 London Olympics, will swim in honor of transgender murder victims Islan Nettles and Domonique Newburn.
Fonua will compete in the 2k open swim, which will be held along with a 5K run and volleyball tournament at Dockweiler Beach.
"It saddened me to hear of the recent tragic deaths of Islan Nettles and Domonique Newburn," Fonua said. "We cannot turn a blind eye away from our transgender family. My hope is that by participating in the Beach Classic that we not only help to educate those ignorant about transgender people, but that we raise money for services to empower and uplift our transgender brothers and sisters."
According to a study by the Organization of the American States, in 2012 there were at least 265 transgender people murdered, many of them in violent killings specifically motivated by anti-trans hate.
Fonua is also inviting the public to join his volleyball team that will compete in the recreational division. Volleyball team members are encouraged to raise at least $125 each that will support services at the Center.
On Aug. 20, transgender reality star Newburn, 31, was found brutally murdered in her home in Fontana, Calif. In a separate incident, on Aug. 23, Nettles, 21, died only days after being assaulted in Brooklyn.
Fonua, a graduate of Texas A&M, came out in his campus newspaper. He represented Tonga at the Olympics and was the nation's flag-bear in the Parade of Nations.
For more information about the Beach Classic, and to register, click here.