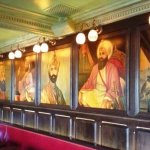 A West Hollywood company whose WeHo holdings include Bar Lubitsch and Jones Hollywood on Santa Monica Boulevard and the Roger Room on N. La Cienega is under fire from a Sikh group for its portraits of a Sikh guru in one of its bars.
The portraits of Sikh Guru Gobind Singh are on the walls of Pikey Cafe and Bar at 7617 W. Sunset Blvd. near North Stanley. The cafe was opened in April 2012 by Committed Inc., founded by New York hotel owner Sean MacPherson. Committed's other Southern California holdings include Swinger's Diner in Los Angeles and Santa Monica and El Carmen in LA. In New York, MacPherson owns the Bowery and Jane hotels and recently opened the Marlton.
"Our religion is very against drinking. Hanging pictures of our guru where people are drinking is very disrespectful," said Karam Grewal, according to a report on India-West.com. "Images of Guru Gobind Singh are only found in gurdwaras or in private homes." A gurdwara is a gateway to a guru, or place of worship for a Sikh, where people of all faiths are welcome.
Guru Singh, born in 1666, is the tenth of the Sikh religion's ten gurus or religious leaders. An eleventh, Guru Granth Sahib, is considered the living perpetual guru.
Other than the images of Guru Singh at the back of the cafe, the establishment is decorated like an old-fashioned English pub, with a Union Jack on the wall.
United Sikh's legal director, Manmeet Singh, said the group would launch a boycott of MacPherson's businesses if the portraits are not removed quickly. "In the teachings of Sikh religion, all intoxicants are banned," he told India West. "To put up pictures of Guru Gobind Singh, and other Sikh gurus, in an environment that promotes alcohol is utterly disrespectful."
Noam Rubin, manager of Pikey's, told WEHOville that his company is concerned about the Sikh group's objection and will remove the images soon. He said Pikey's is waiting for replacement paintings to arrive.