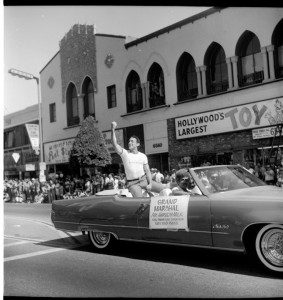 Historical artifacts and resources from the ONE National Gay and Lesbian Archives will be used to develop LGBT history lessons for use in L.A. County High Schools, ONE announced on Tuesday.
"What better way to kick off LGBT History Month than to ensure that the contributions made by our LGBT pioneers are not erased from the history books?" said Joseph Hawkins, director of the ONE Archives at the USC Libraries. "We hope that the LGBT-inclusive curriculum we are developing for Los Angeles County schools will be seen as a model for the rest of the nation to use when teaching American history."
The lessons, being developed by ONE in partnership with the L.A. Gay and Lesbian Center's Project SPIN, follows the 2011 passage of California's FAIR Education Act. With the adoption of the FAIR Act, the state's schools are required to provide instruction about the historic contributions of LGBT people.
"It's empowering for all students to see themselves, their families, and their community reflected in the curriculum," said LAUSD's Judy Chiasson.