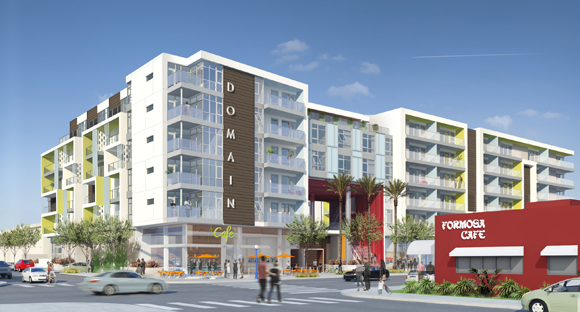 Demolition and construction at West Hollywood's Faith Plating site will begin much sooner than expected, according to a press release from developer Trammell Crow Residential.
Trammell, which recently purchased the site at 7141 Santa Monica Blvd. at North Formosa, expects demolition of the sound studio and Faith Plating building to begin this fall and construction of  its "Domain West Hollywood" project next spring. Residents are scheduled to move in spring 2016.
Trammell anticipates monthly "market-rate rent" for the apartments, ranging from 691 to 1,270 square feet, to cost "in the $2,000s."
The Domain project will be a six-story residential and retail building with 166 residential units and 9,300 square feet of retail space at street level. The building will be six stories high (72 feet) on the Santa Monica Boulevard side, but only three stories (36 feet) at the back of the lot, which is next to low-rise residential buildings.
In May, at the meeting in which WeHo's Planning Commission unanimously approved plans for the project, some residents worried there were too many big projects simultaneously going up on the city's eastside. In response, Planning Commissioner John Altschul said the Domain project wouldn't be "shovel ready" for several more years, reassuring residents two big Monarch Group projects would be completed before Domain broke ground.
Monarch's two projects are: A six-story mixed-use project at the old Carl's Jr. site (on the northwest corner of Santa Monica Boulevard and La Brea Avenue) and another six-story mixed-use project on the old Jon's supermarket site (southeast corner of La Brea and Fountain Avenues).
According to Jeff Seymour, a lobbyist for the Monarch projects, the Carl's Jr. site project should be finished in January 2014.
Additionally, a mixed-used project that includes two seven-story towers and 26,000 square feet of commercial space is proposed for the Movietown Plaza site (on Santa Monica Boulevard at Poinsettia Place).
At the May meeting, most of the residents who spoke favored the project but worried about the removal of soil contaminated by heavy metals used by Faith Plating, which since 1935 had been one of the world's largest replaters of chrome automobile bumpers. At the meeting, Joe Frey, founder of Frey Environmental, the company in charge of removing the contaminated soil, said the level of contamination was not as extensive as once thought and there would be no spillage as waste was removed.
The centerpiece of the project, which was designed by Alan Pullman of the Long Beach-based Studio One Eleven architectural firm, will be a three-story portal allowing views of the Hollywood sign in the background. That portal will have a bright red metal covering designed to tie into the red-painted Formosa Cafe, the Chinese restaurant directly across the street.
The western division of Trammell has more than 1,500 apartment units in Southern California in development or recently completed.