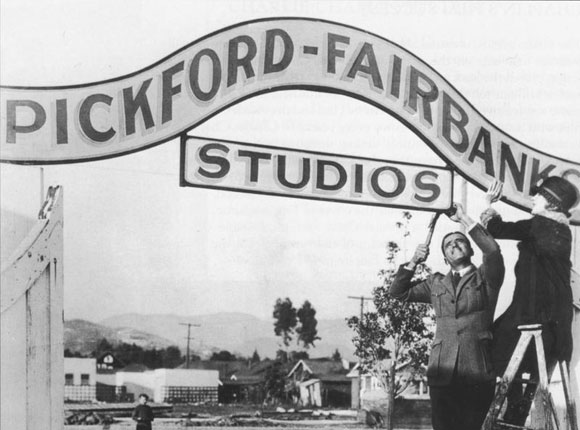 The company that owns the West Hollywood movie studio known as "The Lot" has revised its controversial development plans for the historic property.
CIM Group, which began demolition of the studios in April 2012 before plans stalled, says it's proposing "a significantly more favorable preservation plan" for the property at the southwest corner of Santa Monica Boulevard and Formosa Avenue. CIM Group plans to demolish and rebuild some of the movie studio buildings.
Earlier this year, CIM Group cited the economic recession to invoke a delay clause in its contract with the city. That clause allowed CIM to extend its development agreement from March 2013 to October 2014.
In June, CIM submitted to the city revised plans for The Lot.
The plan notes that several historic structures previously marked for demolition will be retained under the new plans. Before halting demolition, CIM razed the "Pickford Building" in April 2012 despite protests from preservationists.
"The revised (plan) submitted by CIM is definitely far better than the 2007 plan," said Sal Gomez on behalf of Save Pickfair Studio.
"While it does keep the majority of the original buildings, (it) will call for the demolition of the Commissary (formerly the paint shop, which had been built in the 1920s) and the administration building. To keep with the courtyard feel of the 1920s studio property, we additionally would like to see the open parking lot remain, as opposed to the multi-story plaza building going up in its place.
"We do like the green life being brought back in to the property, as it has been missing since the late '50s when the Goldwyns had most of it removed from the property. And while it is not our ideal plan, it's a vast improvement from the prior plans and [we] look forward to hearing more about the historic restoration of the original buildings."
The 10-acre movie studio and backlot was built in 1919. A few years later, silent-era megastars Mary Pickford and Douglas Fairbanks bought the property and renamed it Pickford-Fairbanks Studio, but it was commonly known as "Pickfair Studios." The lot has also been known as United Artists Studio, Samuel Goldwyn Studio and the Warner Hollywood Studio.
Many classic movies such as "West Side Story," "The Manchurian Candidate," "The Apartment" and "Some Like it Hot" were filmed there.