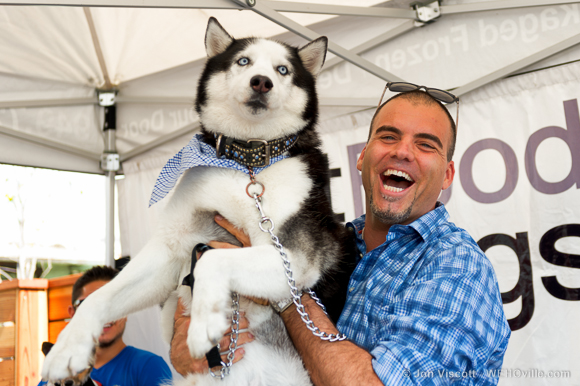 You might have thought that Abbe Land was the mayor of West Hollywood (although, given that the position rotates around the City Council once a year, you'd be forgiven for not really knowing). But there are folks on Santa Monica Boulevard who know the mayor of West Hollywood as Dolce.
"You can catch him routinely walking Santa Monica Boulevard greeting all the shop owners and pedestrians with a smile and free hugs," Stefen Liberti said of his black and white Siberian husky, who indeed can rise on his hind legs to give a hug. "This is how he was 'unofficially' given the moniker, the "Mayor of WeHo'."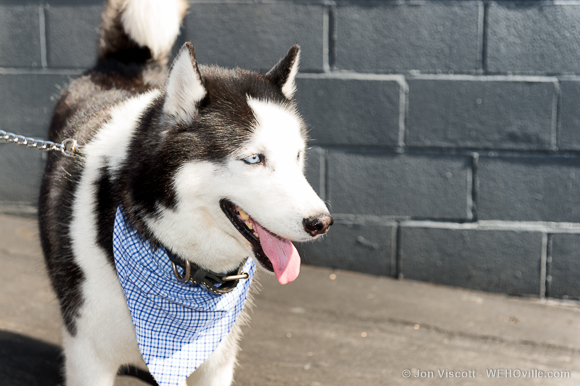 Dolce now has another title (this one official) as WeHo's Cutest Dog. The honor was bestowed at WEHOville's second annual Cutest Dog ceremony this weekend, which drew nearly 100 entries and was sponsored by Just Food for Dogs, the new healthy dog food emporium at the corner of Santa Monica Boulevard and Fairfax Avenue.
Liberti, a real estate agent with Rodeo Realty in Beverly Hills, said Dolce, now four, was given to him "at the tender age of three months when my clients downsized from a house into a smaller place which didn't allow pets."
He says Dolce is easy to get along with. He has lived with two German shepherd sisters — Gucci and Coco Chanel, who recently passed away from cancer. Liberti says one of his sweetest experiences with Dolce occurred after Coco died and was "cremated so that we could sprinkle her ashes around the place she loved most — the hills Of Runyon Canyon. Well, shortly after placing her ashes on our mantle, Dolce began spending hours a day lying directly under the urn. Wherever we would place the urn, Dolce would soon follow and just lie there. Dolce was there the day when we sprinkled Coco's ashes and in his own way, said goodbye."
Dolic also has a few feline brothers and sisters. And he loves stuffed animals. "Anything with a squeaky center," Liberti says.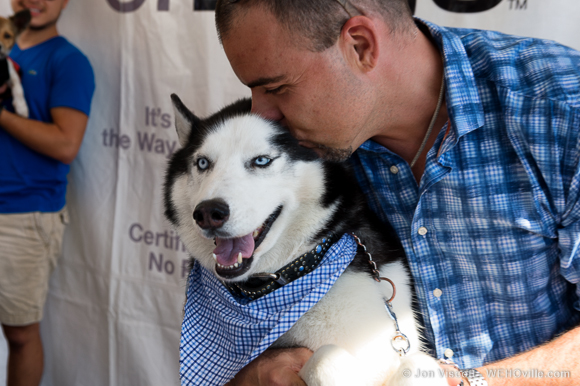 Dolce also has a mind of his own, which Liberti discovered when housetraining him. "I would continually bring him outside to do his business, but whenever he was on the grass, he would just sit there and curiously stare up at me," he said. "Like clockwork, the moment I brought him in, he would run over to couch leg and begin to lift his tiny leg, causing me to grab him and run outside repeating the cycle all over again.
"I could swear he was having fun at my expense, because one day, all on his own, he sat by the door and just sat there until I took him out. He either is very intelligent or has a wicked sense of humor. I like to think the latter."
Dolce is similarly insistent when he wants to climb into bed with Liberti and his partner. "He climbs into bed and decides it's time for us to pet him. He will rub his snout under our hand, arm and leg or roll around next to us until he gets some attention. "
But at his core, Liberti says, Dolce is nothing if not loveable. "Dolce's not only beautiful on the outside, but his spirit and temperament are equally as beautiful. He simply lives to love and is the sweetest, most joyfully playful dog I have ever known. The way he interacts with children, dogs and cats and other people, warms my heart and brings a smile to every face who sees him."
Like any beauty pageant, there were other standouts. The three runners up were Digsby, a French Bulldog whose guardian is Travis Kane; Mac, a Labrador whose guardian is Mary Kiser, and Maggie, a mix whose guardian is Eitan Kramer.
The contest judges were Dr. Oscar Chavez, the veterinarian and part owner of Just Food for Dogs, Dr. Mark Hiebert, Medical Director for VCA TLC Animal Hospital, and Dr. John Tegzes, veterinary toxicologist at the College of Veterinary Medicine of Western University of Health Sciences in Pomona, CA.