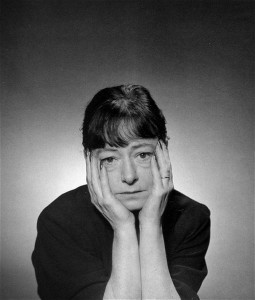 In the minds of most of the country's literati, Dorothy Park is associated with New York City. After all, that's where she famously spent time at the Algonquin Hotel, helping create its Round Table, a group of witty writers, actors and critics that met for lunch regularly from 1919 until 1929 to exchange bon mots. ("Men seldom make passes at girls who wear glasses." "I require only three things of a man. He must be handsome, ruthless and stupid.")
But Parker also had a Hollywood history, and actually owned a house at 8983 Norma Place in the 1960s. There she lived with actor and aspiring screenwriter Alan Campbell, who is alleged to have been bisexual and who Parker affectionally described as "queer as a billy goat."
The Norma Place house is where Campbell killed himself in 1963. The couple had a difficult relationship, and Parker was supporting herself largely by teaching English at California State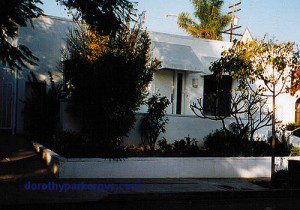 College at Los Angeles. Campbell's death, according to the Dorothy Parker Society, brought out what her fans would consider the best in her. According to the Society's website: "a nosey neighbor came over and asked the grieving widow if she needed anything.
"'Get me a new husband,' Dorothy told the woman with little emotion.
"Shocked, the neighbor was aghast, and angry. She berated Dottie.
"'I'm sorry,' Dottie told her neighbor. 'Then run down to the corner and get me a ham and cheese on rye. And tell them to hold the mayo'."
Parker's WeHo history will be celebrated this weekend with a series of events, beginning with a reception at Tags, the clothing store on 8570 W. Sunset Blvd. near Alta Loma, for Kevin Fitzpatrick, author of "Under the Table: A Dorothy Parker Cocktail Guide." Fitzpatrick is president of the Dorothy Parker Society in New York. The LA chapter is headed by Adrienne Crewe. The reception is from 6 to 8 p.m. and includes cocktails and discounts on shopping.
On Saturday there are two events: A bus tour of Parker's West Hollywood and Beverly Hills, including the former location of Alla Nazimova's Garden of Allah and mansions and cottages where Parker lived. The bus boards at 1 p.m. across from Book Soup at 8818 Sunset Blvd. west of Palm. Tickets, $49, are available online.
At 4 p.m. on Saturday, Book Soup will host a discussion of Parker's Hollywood years, speakeasy drinks and Prohibition recipes. It will be the only place in Los Angeles where one can buy a signed copy of Fitzpatrick's book.
"I like to have a martini,
"Two at the very most.
"After three I'm under the table,
"After four I'm under my host"
— Dorothy Parker