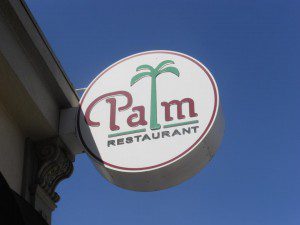 West Hollywood's storied Palm restaurant not only is leaving the site at 9001 Santa Monica Blvd. at La Peer where Hollywood legends have gathered for 40 years, it actually is leaving West Hollywood.
The Hollywood Reporter reported today that Bruce Bozzi, executive vice president of the Palm Restaurant Group, confirmed the move. Bozzi, who declined to give the new location, told the Reporter that Palm's lease is up and it will move somewhere in Beverly Hills by the end of this year.
9001 Santa Monica Blvd LLC, a unit of Goldstein Planting Investments, plans to build a five-story retail and residential complex on the site, which includes an adjacent Rolls Royce dealership and a parking lot. Goldstein Planting bought the property in 2011 for more than $8 million from SunCor Development Co. and Chinatrust Bank. In exchange for a payment of $1 million, the West Hollywood City Council in August granted the developer an extension on its development permit that gives it until July 2016 to start construction.
The so-called Palm Project will have 42 residential units (34 of which will be condominiums and eight of which will be apartments rented to moderate- and low-income people), 9,850 square feet of retail space, 9,800 square feet of restaurant space and 180 parking spaces in a two-level parking garage. The project site includes the Palm restaurant building as well as the adjacent parking lot and auto repair business.
When the project was first announced, a publicist for the 30-restaurant Palm chain insisted that the restaurant wasn't leaving its current location. Palm's walls are covered with cartoons of the celebrities from past and present who have dined there.