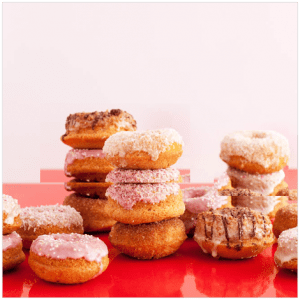 West Hollywood residents and visitors will face a glazed conundrum with two doughnut shops opening their doors tomorrow.
For those who prefer the staid and traditional, West Hollywood institution Tasty Donuts and Café, which closed last July, will re-open on at 6 a.m. The store, now located at 8205 Santa Monica Blvd. at Havenhurst, was open at its prior location down the block for 22 years. It had to move because developer Pacific Development Partners is redeveloping that property.
While Tasty Donuts is a round-the-clock purveyor of sweet treats, the new Glazed Donut Bistro at 8807 Santa Monica Blvd. at Palm will have more limited hours. However, it might catch some of the party crowd as it will be open till midnight on Thursday, Friday and Saturday nights. Judging from its website, however, this "artisan" donut shop seems geared toward a different crowd.
Glazed describes its concept as "donuts for grownups," and boasts an array of sweet and savory doughnuts, sauces—and even a wine list.