The Free Speech Coalition (FSC), a group that represents the adult porn industry, has endorsed a petition demanding the resignation of Michael Weinstein as CEO of the AIDS Healthcare Foundation.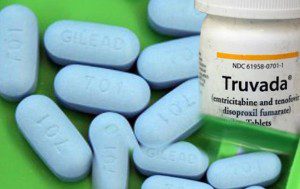 The petition drive was launched Tuesday by Eric Paul Leue, who last month was named Mr. Los Angeles Leather. Leue objected to a statement by Weinstein in an interview with the Associated Press in which he called Truvada a "party drug." (Weinstein's full quote was: "If something comes along that's better than condoms, I'm all for it, but Truvada is not that. Let's be honest: It's a party drug.")
Truvada is being promoted by its manufacturer, Gilead Sciences, and by some in the gay community as an effective substitute for condoms in preventing infection with HIV.
"Party drug" is a term used by gay men to describe drugs such as GHB and crystal meth. GHB has been cited in the deaths of many gay men and meth is known for its addictive and destructive qualities. "This statement needlessly stigmatizes individuals trying to protect themselves from AIDS by likening them to illicit substance abusers," Leue says in his online petition.
An influential gay porn actor and producer who makes "bareback sex" (condomless) films also has attacked Weinstein for his opposition to the use of Truvada as a preventative HIV drug. Michael Lucas, in an article published in Out magazine, accused Weinstein of portraying Truvada and gay men "in the most unattractive light" with his statement to the AP.
The FSC began its campaign against Weinstein when AHF successfully engineered the passage in 2012 of a ballot measure that requires adult porn performers to use condoms. Many producers in the adult porn industry, faced with a dramatic drop in revenue because of the availability of free porn online, had begun filming bareback  sex acts, thinking it would be an erotic draw for their customers. Lucas himself, once an avid opponent of bareback porn, announced in a recent interview with Queerty, the popular gay news blog, that his decision to film bareback porn was motivated by business interests.
"Condomless scenes are far more popular with consumers than scenes with condoms," he told Queerty. "And most companies (now including mine) have adjusted to this reality. I can't talk about the financial state of other porn studios, but I know that several have gone out of business in recent years or have been taken over by large corporations. If the industry had stayed united behind condom use, then that would be one thing, but it didn't. And that means that companies that produce only porn with condoms are putting themselves at a very real disadvantage. In the end, this is a business, and we can't afford to ignore what consumers want from porn these days."
Lucas said he is more comfortable with his decision because of studies that show that men whose level of HIV virus is "undetectable" are much less likely to transmit the virus and because of the advent of Truvada.
A study known as iPrEX has been widely interpreted as showing that daily use of Truvada reduces the likelihood of infection by HIV by 99 percent. The study, however, involved gay and transexual men who also were offered regular counseling to use condoms and were regularly tested and treated for other sexually transmitted diseases that can reduce the risk of HIV infection.
It's not clear to what degree use of Truvada alone would reduce the risk of HIV infection. For that reason, many of Truvada advocates call for users to also use condoms, hoping that Truvada will block an HIV infection if the user forgets to use a condom. Regular use of anti-retroviral drugs has reduced the level of the HIV virus in infected people, making it less likely they will transmit the disease. But public health officials still worry that there are an average of 50,000 new HIV infections in the United States each year.
As of this morning, Leue's petition has attracted 1,797 of the 50,000 signatures it is seeking.  Weinstein is the founder of AHF, the world's largest non-government provider of services to people with HIV/AIDS, which is based in Los Angeles and operates in 33 countries.