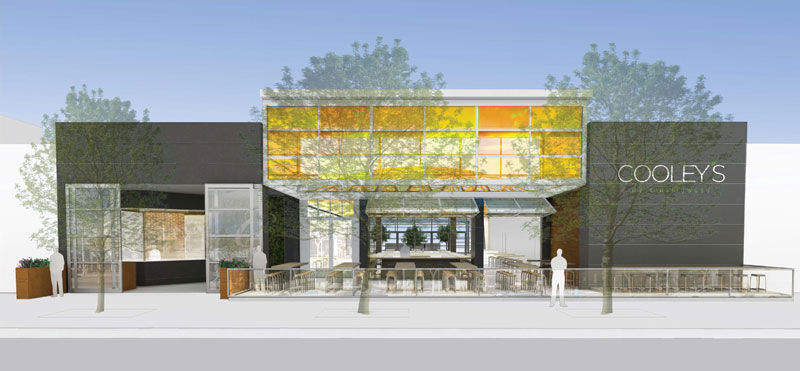 There's a clear light at the end of the long tunnel that Abbey founder David Cooley has had to travel to open Cooley's.
Today Cooley was handed the building permit he needs from the City of West Hollywood for his gastropub, which will occupy three commercial spaces on the south side of Santa Monica Boulevard just east of Robertson. The Cooley's space formerly housed Raffi's Jewelers, Balliamos dance studio and Unicorn Alley, an "adult" store. Cooley's will occupy 5,632 square feet of interior space and also include front and rear patios.
The fact that there has been no evident progress on construction at Cooleys, the opening of which had been anticipated for this past summer, has led some in WeHo's Boystown community to wonder if it would never open.
But David Cooley has had to go through the same rigorous permit process applied to all new businesses in West Hollywood. His process was complicated by the need to secure the city's permission to serve alcoholic beverages and have outdoor dining areas. Another complication was the vociferous opposition of Alfredo Diaz, the former manager of Revolver Video Bar nearby.
Diaz appeared before the city's Community Development director, the Planning Commission and the West Hollywood City Council to ask that the permits Cooley's needed be denied. Among his concerns was that the outdoor patio at the rear of Cooley's facing West Hollywood Park would expose children in the park to drinking and possibly other inappropriate behavior. Diaz said that he and his partner Mike Stommel, frequently took their children to the park.
The City Council gave its final approval to Cooley's plans in March. Since then Diaz has been removed as managing partner of Revolver after being sued by his business partner, Chris Miller, who alleges Diaz embezzled money from the business.
"Good things can take time," Cooley said of the permit process.  "It took a while to get our construction plans approved because we're combining three existing spaces into one and creating something completely new for West Hollywood. The team at the city has been very supportive of our project, and we are excited to finally start construction. Everybody should keep checking our social media channels for updates as we build Cooley's.  We hope to be open in time for Pride next year."