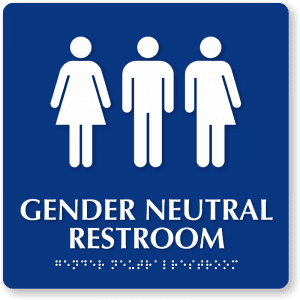 Gentlemen, remember to lower that toilet seat. That is going to matter beginning this month as West Hollywood puts into effect an ordinance that requires that all single-stall restrooms in businesses and places of public accommodation be gender-neutral.
The Council approved the ordinance last June. It doesn't aply to multiple-stall restrooms.
The new ordinance benefit a number of different users including transgender and gender non-conforming people, people with disabilities or with personal attendants, people with children of a different gender and those who have waited in line for a gender-specific restroom when a restroom for a gender for which they don't identify remained empty.
The ordinance applies both to existing and future single-stall restrooms — defined as intended for use by one person at a time — in food and commercial establishments, retail locations, and city facilities. Existing businesses are given a 60-day period to make necessary changes to comply with the ordinance; new businesses are required to comply immediately.
In 2006, Washington, D.C.'s Office of Human Rights instituted a similar law that requires every single-stall public restroom in the District of Columbia to be gender-neutral. In 2013, the Philadelphia passed a law requiring new or renovated city-owned buildings to include gender-neutral bathrooms.