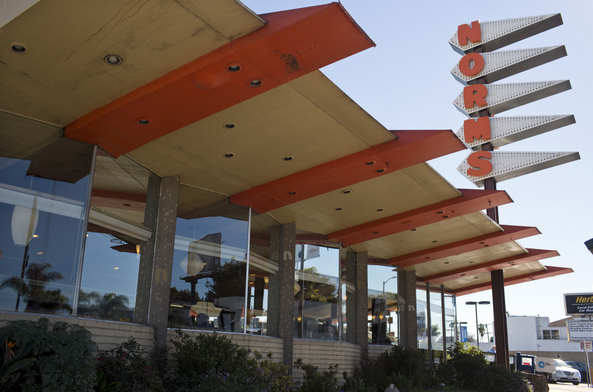 Norms may get a breather. The Los Angeles Cultural Heritage Commission last night agreed to consider the Googie style restaurant at 470-478 N. La Cienega Blvd. for historic/cultural monument status. And Jim Balis of Restaurant Management Group, which purchased the property along with 17 other Norms locations in Southern California, issued a statement saying "We have never had any intention of demolishing Norms La Cienega, nor do we intend to do so in the future."
However, in the statement, Balis noted that the demolition permit for the property, whose issuance provoked fear that the building would be demolished, was actually issued to the Norman Cienega Property Group LLC. It owns the property, while Restaurant Management Group merely leases the building
"They have assured us that they have no current plans to demolish the building," Balis' statement said. "The owners just purchased the property last month, and we understand they have just started working with an architect to explore potential future opportunities for the site. They have also assured us that there will be outreach to the community, the stakeholders and us before moving forward with any proposal for the property."
The L.A. Culture Heritage Commission decision means the building cannot be demolished while it moves through the process of being nominated for a historic / cultural monument designation. That process could take several months, and the final decision is up to the Los Angeles City Council.
The Los Angeles Conservancy has mounted a campaign to preserve the building, with an online petition https://www.change.org/p/new-owner-of-the-norms-la-cienega-property-vacate-the-demolition-permit-for-norms-la-cienega
The Norms on La Cienega, just south of Melrose, was designed by architects Louis Armet and Eldon Davis and opened in 1957. The L.A. Conservancy says "Norms La Cienega is an exuberant example of the California coffee shop type and an expressive Googie masterwork. "
The eccentric Googie style takes its name from a coffee shop called Googie that was at the intersection of Sunset and Crescent Heights boulevards in the 1950s. Today, in addition to Norms, a major example of the Googie style is Mel's Diner at 8585 Sunset Blvd. just west of Londonderry Place in West Hollywood.
More information about the situation and Norms cultural significance is available on Alison Martino's Vintage Los Angeles Facebook page.