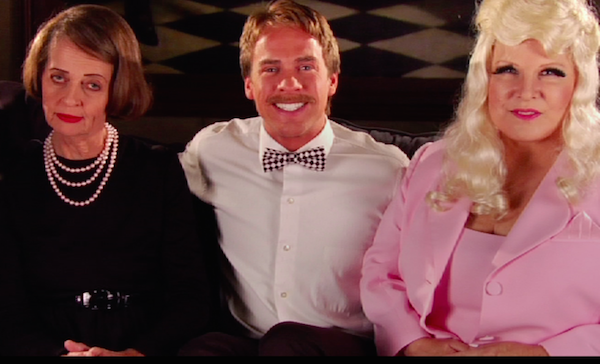 They were the most independent women in the history of Hollywood. Bette Davis, known by some as "The First Lady of the American Screen," never shied from a fight with the (male) titans who ruled the film industry. She had the temerity to take her career to England when Warner Brothers, the studio with which she had a contract, offered her unsatisfactory roles. Mae West, in an era dominated by the puritanical Motion Picture Code, pushed forward with sexually provocative roles in plays such as "Sex" and "Diamond Lil." Their stage success led Paramount to take a chance on her with carefully laundered films such as ""Belle of the Nineties."
For all their prominence in the then-small world of Hollywood of the Thirties, Forties and Fifties (well before the era of reality TV shows and celebutantes in which everyone has 15 minutes of fame), Davis and West never managed to meet until a night in 1973 at the home of a West Hollywood antiques dealer. "When Bette Met Mae" is a film that chronicles their first encounter, with the conversation taped that night by Wes Wheadon, a West Hollywood optometrist who was tending bar. The film is being screened for the first time on March 27 at the West Hollywood City Council Chambers.
"I had purchased a cassette tape recorder, and I brought it along with my Polaroid camera," Wheadon recalled. "I showed it to Bette and said it would be fun to record Mae's voice. Everyone agreed, so I turned it on and let it run for the two hours that cocktails were served.
"What I captured was a priceless conversation from the two ladies who seemed eager to learn about the other's life. Questions from Mae's two male escorts to Bette kept her going — some got her really riled up, and Bette asked a ton of questions about Mae's life. It was a slice of Hollywood History that no one has ever heard."
Wheadon said the conversation covered their history in Hollywood, censorship, contracts, the actors union, their USO appearances during World War II, writing scripts, film rights and payment of residuals and the people who had impersonated them (drag performers such as Charles Pierce and Craig Russell.)
"Mae discussed her many famous boyfriends, Bette her four husbands and children," Wheadon said. "Bette talked about her relationship with Joan Crawford during 'Whatever Happened to Baby Jane,' and Bette clearly didn't care for 'Crawford' — as she called her)."
Wheadon said that Laura and Larry Worchell, the film's executive producers, suggested created an historical documentary using the audio tape and still photos that he took that night. "A film was shot using look-alike actors and a restored sound-tape of the recording made that night. After five minutes of watching, the actors and hearing the real voices of Bette and Mae dubbed in, you cannot tell the actors aren't really Bette and Mae. I've been told this technique of a 'reverse dub' has never been done like this before."
"The film only covers what was discussed that night, which was a great deal of history," Wheadon said. "Back story stills, clips and narration by Sally Kellerman, as well as interviews were added to clarify and illustrate what was being discussed, making the film truly historical." Wheadon said those in the audience will feel like a fly on the wall during that evening.
And how did Wheadon find himself pouring (lots of) drinks that night? He already had begun his career as an optometrist and was living on Orlando Avenue next dor to Pollock. Pollock was remodeling a house next door and hired Vik Greenfield, who had been Davis' personal assistant, to help. Davis asked if she could stay at that house while she worked on a TV film at Universal.
"She arrived, and I met her over the backyard fence," Wheadon said. "We got along well, and Chuck and Vik, seeing this, would ask me to dinner a couple times a week. So Bette and I became comfortable and friendly. I was 27 and Bette was 65 and rambunctious as hell. She also liked her cocktails starting with orange juice with vodka at mid day, then a nap then vodka or whatever else in the evening. She liked to entertain her pals and stars she knew and liked (mostly men — didn't much care for women, especially pretty ones) whenever she could. With Chuck and Vik doing all the work of course."
Eventually, Wheadon said, Pollock and Greenfield decided they needed a break from Davis. They asked Wheadon to have her over for dinner at his place once a week. "So that became our weekly ritual," he said. "I called it 'Bette Duty.' She was fun. I was not a big fan, and as such we got along well."
Davis died in in 1989 in Neuilly-sur-Seine, France, of a stroke. She was 81. West died in 1980 in Los Angeles at the age of 87.  But these two of Hollywood's most independent and famous stars will be alive again at the screening of "When Bette Met Mae" at 7 p.m. on March 27 at the West Hollywood City Council Chambers, 625 N. San Vicente Blvd. south of Santa Monica. Admission is free, but seating is limited and advance reservations are required. Reservations can be requested by emailing whenbettemetmae@gmail.com