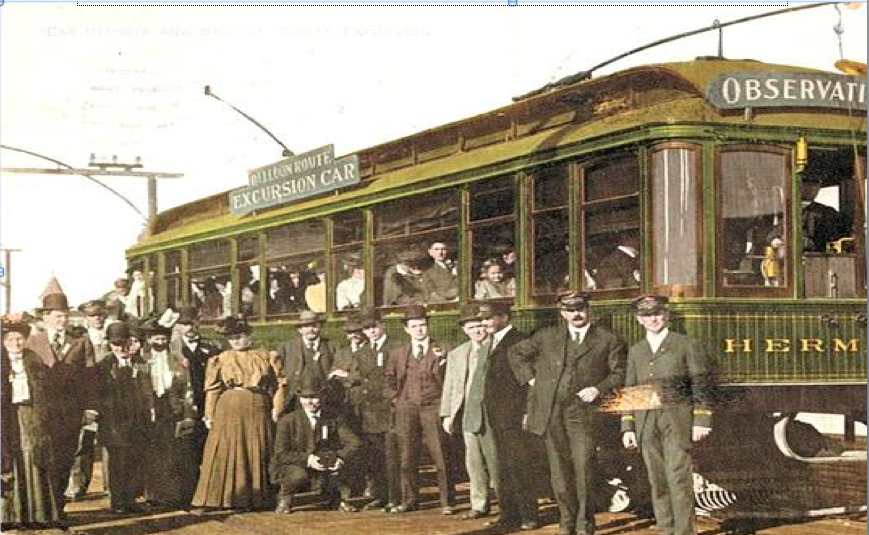 Here's a test. Name three unexpected results from 3,000 trolley cars whizzing along 1,100 miles of steel track that connected one end of Los Angeles with the other more than one hundred years ago. These are the answers:
• Ostrich farms
• Ocean voyages on wheels, and
• Things named Sherman.
If you got all three correct, take the rest of the day off. If you didn't get any right – congratulations. You're normal. Nobody, in any number of lifetimes, possibly could have predicted these particular gifts from the traction gods for building an extensive and innovative mass transit system that was also inexpensive to ride.
The L.A.-area's electric streetcar system was the combined brainchild of railway and real estate magnates Henry E. Huntington and Moses Hazeltine Sherman. Sherman and his brother-in-law, Eli P. Clark, by 1886 had pioneered the first electric-interurban railway that linked Los Angeles to Pasadena.
At that point, they needed another rail yard, and most know the story about how they built those facilities at Santa Monica and San Vicente boulevards, giving the rural community the name of Sherman, which later became West Hollywood. Headquarters offices for their Los Angeles Pacific Railway were located at the Sherman site. Did you know that Sherman also named the town's main street Sherman Avenue, known today as Santa Monica Boulevard? He also named Clark Street after Eli Clark, a name that has stuck through the decades.
Sherman and Clark had such a profound effect on L.A.'s electric streetcar industry that when they retired in 1910, they set off a chain reaction of mergers and consolidation that created the Pacific Electric System and its once-ubiquitous Red Cars. But thankfully, they didn't go away without leaving a trail of stories that haven't always received much publicity.
Birds of a Feather

Before roller coasters and other thrill rides came along, there were ostrich farms – the amusement parks of their day. People couldn't get enough of watching these tall, flightless birds with ungainly looks and high-strung temperaments. Neither could they get to outlying farms very easily where these ornithological curiosities were kept. Trolley cars didn't go to such remote locations, at least not initially.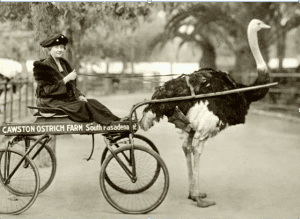 But Sherman and Clark solved that problem. One of the first railways they bought was a failed line intended to carry riders from downtown L.A. to current day Griffith Park, where an English naturalist had built the Los Angeles Ostrich Farm along the banks of the Los Angeles River.
A cable car line took tourists to within a few miles, but much slower horses and carriages were needed to go the rest of the way. The Englishman, Charles Sketchley, partnered with Rancho Los Feliz landowner Griffith J. Griffith in 1886 to build the Ostrich Farm Railway to transport curious sightseers back and forth from downtown. But the venture had serious money problems and never operated consistently for very long – plus, heavy rainstorms washed away large parts of the tracks.
Sherman and Clark stepped in, rebuilt the entire line and reportedly became as enamored with the dinosaur descendants as everyone else. Something must have worked – a few years later, they built another transit line that ran through the Arroyo Seco and South Pasadena, where the most popular stop was the Cawston Ostrich Farm.
Ostriches couldn't fly here, so they had to be imported. But why? Sketchley brought a flock of the gangly big birds from South Africa in 1885 to the Griffith Park farm so he could capitalize on a trend in women's fashion that favored ostrich feathers for muffs, hats and boas.
Sherman soon discovered that the birds attracted so much favorable and affectionate attention from humans that he was able to charge an admission fee to see them. Visitors were only too happy to bring sacks of oranges to feed the big birds, saving him a small fortune in feeding them.
Balloon Route: "The Only Ocean Voyage on Wheels"
Sherman and Clark introduced several innovations to trolley car operations in the L.A. area. One of the most popular was the scenic Balloon Route Trolley Trip, the most famous streetcar excursion in the West. Few tourists to Los Angeles missed riding the Balloon Route cars, so named because of the looped shape of the course trolleys would follow.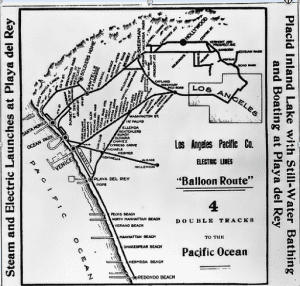 The excursion consisted of as many as 18 cars daily going from downtown L.A. to Hollywood and then on to Santa Monica and south to other beach cities of Venice, Playa del Rey and Redondo Beach before heading back to downtown through the Palms area. Covering 101 miles at a cost of 100 cents – one whole day for a dollar, the Balloon Route excursion was billed as "Not Up in the Air but Down on the Earth." Stops along the way included artist Paul DeLongpre's house, Soldier's Home, Santa Monica's Long Wharf as well as Camera Obsgura and the Ocean Park Bathhouse, followed by dinner, ice skating and/or boat rides in the lagoon at Playa del Rey.
The Balloon Route embodied all that was good about the early days of electric-powered streetcars. The excursion's heyday lasted until 1911, when a major merger of numerous railways sent the route to former rival Southern Pacific. Under its new owner, the Balloon Route "suffered ignominious neglect and eventual death."
Moses Sherman: A Tall Order
Moses Sherman was a big man, standing at 6'9" tall, reportedly with a stance and demeanor to match. His ego apparently was big enough to go around … and around … and around. The co-founder of LAP not only named one town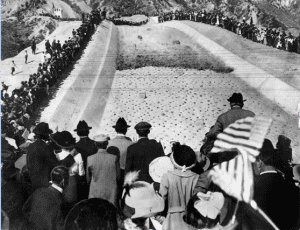 after himself but two. The second community is Sherman Oaks in the San Fernando Valley – which still bears his name today.
The story about why Sherman bestowed his name on a second town involves conflict of interest issues and questions over whether he revealed confidential information to friends. Sherman was simultaneously (1) a member of the L.A. Department of Water & Power's Board of Water Commissioners; (2) a land developer in the San Fernando Valley and (3) an owner of a trolley car system that served to increase the value of his real estate holdings.
As a Water Board commissioner, he received advanced notice of purchases of water rights in the Owens Valley for the proposed Los Angeles aqueduct. The additional water to Los Angeles, with the aqueduct's terminus in the San Fernando Valley, triggered a rush by land speculators to buy valley real estate.
Sherman was one of several directors in a land speculation syndicate that purchased a parcel in 1909 that comprised nearly the entire south half of the San Fernando Valley. Many published reports imply he tipped off friends so they could also buy Valley real estate in advance of the aqueduct being constructed. The income Sherman received from real estate development made up for flagging railroad profits.
Nostalgia Isn't What It Used To Be
Catching a ride on a streetcar named Nostalgia won't soften how the story of the LAP's rail yard in Sherman ends. The Sherman rail yard suffered the consequences of an industry mass merger / shake-out in 1911. When the Los Angeles Pacific Railway encountered financial problems, it was sold and all equipment previously based in Sherman was merged into another company, the Pacific Railway System, or Red Cars.
Passenger rail service was discontinued at the former Los Angeles Pacific site in 1954. All buildings were demolished a few years later to make way for expanding bus operations by the Los Angeles County Metropolitan Transportation Authority's Division 7 based there.
More change could well be on the way as developers push plans to build a huge new development on the MTA site the size of all three Pacific Design Center buildings, containing residential, commercial, retail and government offices.
Bob Bishop is a retired public relations manager and journalist who writes about local history for WEHOville. Contact him at bishopbob6@gmail.com