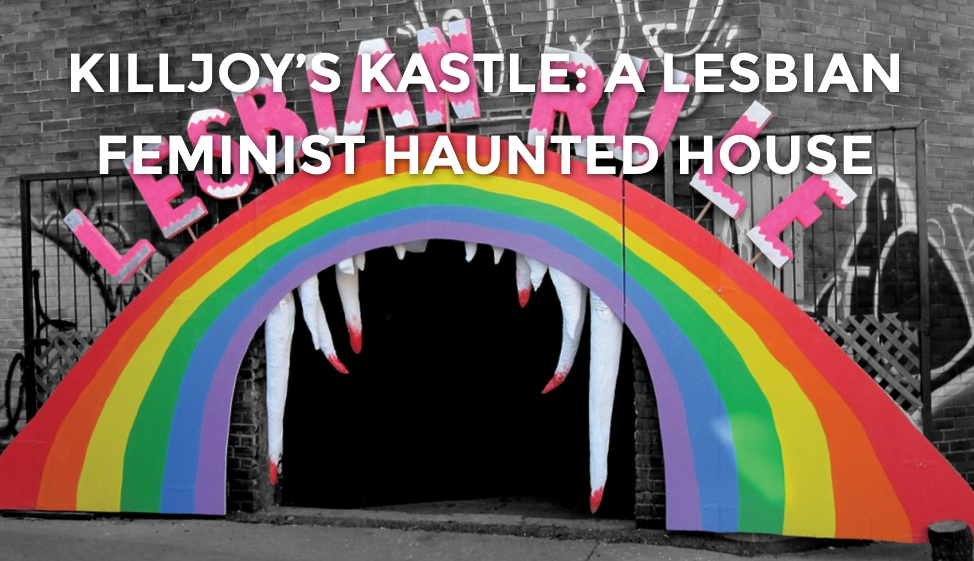 The City of West Hollywood is hosting a lesbian feminist haunted house. Each Halloween, radical evangelical groups build "Hell Houses" performer-animated installations that showcase a gruesome retribution for the sins of fornication, abortion, suicide, occultism, and, of course, same-sex relationships.
This Halloween season, Toronto-based artists Deirdre Logue and Allyson Mitchell reclaim this hellish scenario with their sex-positive, trans-inclusive, queer lesbian feminist fear-fighting celebration KillJoy's Kastle: A Lesbian Feminist Haunted House.
The Haunted House will take place at Plummer Park's Long Hall, located at 7377 Santa Monica Blvd. Opening night will take place on Frida from 5:30 p.m. to 9:30 p.m.
Thereafter the house will be open from 6:30 p.m. to 9:30 p.m. on the following dates:
• Saturday, October 17, 2015;
• Sunday, October 18, 2015;
• Thursday, October 22, 2015;
• Friday, October 23, 2015;
• Saturday, October 24, 2015;
• Sunday, October 25, 2015;
• Wednesday, October 28, 2015;
• Thursday, October 29, 2015; and
• Friday, October 30, 2015.
This project is organized by the ONE National Gay & Lesbian Archives and funded in part through a grant from the City of West Hollywood through its Arts and Cultural Affairs Commission.
Admission is free and open to the public.
More information is available online. http://one.usc.edu/killjoys-kastle or www.weho.org/arts. The event also has a Facebook page.