Mitchell Grobeson, known for launching a lengthy battle in 1988 to force the Los Angeles Police Department (LAPD) to end discrimination against gay officers, has been identified as the man who barricaded himself with a gun in his apartment at 800 West Knoll Drive on Friday.
Grobeson, 57, a former LAPD sergeant, was arrested after assaulting his longtime boyfriend. An L.A. Sheriff's Department SWAT team showed up at his apartment around 10 a.m. Friday along with a crisis negotiation team. The situation led to the blocking of West Knoll and the eastbound lanes of Santa Monica Boulevard until about 2 p.m., when the crisis negotiation team talked Grobeson into surrendering. He was booked into jail in protective custody and is being held on $250,000 bail.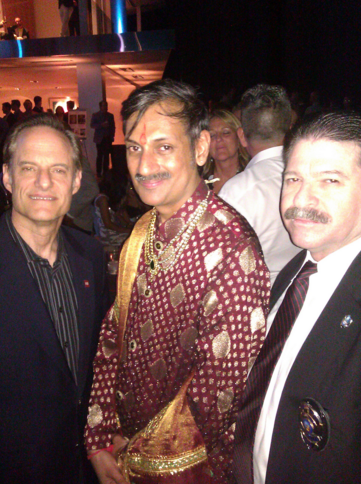 The assault is likely to lead to Grobeson being charged with corporal injury against a spouse, which can be ruled a misdemeanor with a potential sentence of up to one year in county jail, and/or a fine of up to $6,000, or as a felony, punished by as many as four years in California state prison. Earlier reports said Grobeson also had threatened to commit suicide and shoot anyone who approached him.
Grobeson, said to have been the first openly gay officer in the L.A. Police Department, sued the department in 1988, alleging discrimination against gay and lesbian employees. He resigned after filing the suit, taking a job with the San Francisco State University Police Department and the San Francisco Police Department. In a 1993 settlement of his lawsuit, the LAPD was required to end discrimination against gay and lesbian employees and job applicants.
Grobeson returned to the LAPD and retired in 1995, claiming a mental disability. However he filed a second lawsuit in 1996, alleging the City of Los Angeles and the LAPD had failed to take the steps required in the 1993 settlement to eliminate discriminatory practices and that he had been discriminated against by the police department. Grobeson sought $636,000 to pay his legal fees and up to $4.4 million in back pay and compensation for emotional distress. In 2007, Los Angeles and Grobeson agreed to settle the suit. The city agreed to strengthen its policies against LGBT discrimination and pay Grobeson's legal fees. However the two parties were unable to reach agreement on Grobeson's request for back pay.
That spurred another trial in December 2007, which Grobeson lost. However a judge ruled that one of the jurors was biased. That prompted another trial, which Grobeson and the LAPD settled in 2013 without disclosing the terms."
Grobeson's fight against the LAPD made him somewhat of a gay icon, with appearances on "60 Minutes" and the Phil Donahue show. He also was the recipient of West Hollywood's Rainbow Key Award in 2008. After his retirement, Grobeson has worked as a private security officer for various celebrities and for LGBT events such as the 20th anniversary of The Wall-Las Memorias, an organization that provides services to Latino people affected by HIV, substance abuse and other issues. Grobeson also is the author of "Outside the Badge," published in 1999, a novel about a police officer trying to solve the murders of male street prostitutes in Hollywood. Grobeson has chronicled his own career on a website titled SgtMitch.com.
Grobeson's arraignment is set for tomorrow at LAX Superior Court.