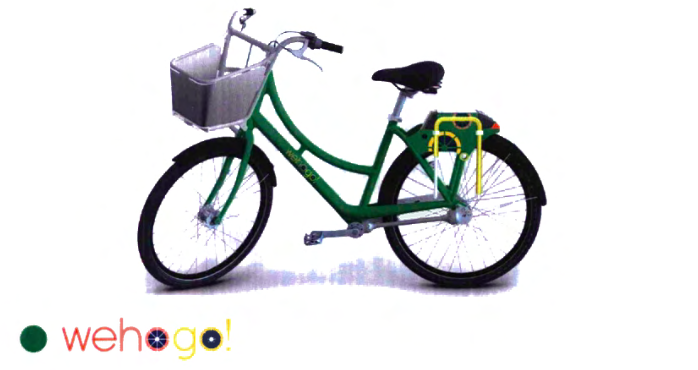 So you didn't like Bikey McBikeface? No worry. West Hollywood now is recommending that the City Council endorse "wehogo!" as the brand for its public shared- bicycle program.
The city, tongue in cheek, announced that Bikey McBikeface was the choice in a press release on April 1 (a.k.a. April Fools Day), a decision that upset a number of WEHOville residents who failed to take note of the "just kidding" nature of the date.
Now, based on what it describes as "an extensive branding process, including input from an interdisciplinary team of City staff, in a branding discovery process led by expert consultants, staff is recommending the name "wehogo!" to be used as the system name, which reflects West Hollywood's energy, progressive values and forward motion."
Last August the Council authorized implementation of a program that would put 150 bicycles at 20 locations around the city. The city has engaged a contractor named CycleHop to install, operate, maintain and secure corporate sponsorship for the bike share program.
The city's shared bike program will be integrated with those of others in the Westside cities bike share programs such as Beverly Hills and Santa Monica.
The name for West Hollywood's program was developed by Symblaze, a West Hollywood company that also was responsible for branding the city's The Pickup, the free nighttime shuttle on weekends that ferries people to and from bars and restaurants along Santa Monica Boulevard. Symblaze first narrowed the options down to five — Rovr, Outrider, Woo bi, Zipper and wehogo! — before settling on wehogo!
City staffers hope to present a potential sponsor for the program and a proposed fare structure to the City Council at its May 2 meeting.
The Council will consider the wehogo! brand at its meeting at 6:30 p.m. Monday at the City Council Chambers at 625 N. San Vicente Blvd., south of Santa Monica. That meeting will be preceded by the 6 p.m. installation of Lauren Meister as the city's mayor and John Heilman as its mayor pro tem.