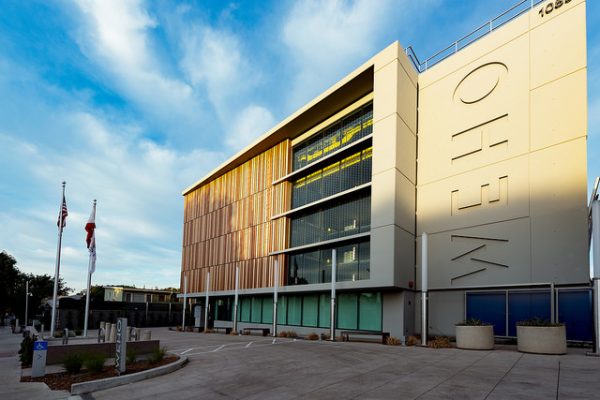 The City of West Hollywood will host a grand opening on May 24 to mark the completion of the automated garage and community plaza behind City Hall.
The celebration will take place from 5 to 8 p.m. at West Hollywood City Hall, 8300 Santa Monica Blvd. at Sweetzer. It will feature comments from members of the West Hollywood City Council at 6:15 p.m., and representatives from the design and construction firms who worked on the $18 million project will be in attendance. Refreshments, including food from restaurants in the Center City, will be served, and there will be a music mix by DJ Derek Monteiro.
The celebration will include hosted tours of the garage exterior with groups of event attendees entering the parking bays to view artist murals located within them. To ensure a safe environment, event parking will be available at the Kings Road parking structure, located at 8383 Santa Monica Blvd. at Kings, two blocks west of City Hall.
"We're very excited about the completion of the Automated Garage," said West Hollywood Mayor Lauren Meister. "The garage is located in an area of the city that has been in need of additional parking, and this garage will help to fill that need. The technology is amazing — and kind of fun, too! I drove in facing one way, but my car came out facing the other way … how does it know?!"
The automated garage, often referred to as the "robo garage," requires a much smaller physical footprint than would a conventional parking structure with a similar capacity. The space savings nets more than 7,000 square feet for a community plaza and an entry service area that will be used for community events.
"I'm excited about the opening of our newest parking structure," said Councilmember John Heilman. "The innovative technology allows us to provide more parking than we would get with a standard parking structure. I look forward to it being replicated elsewhere."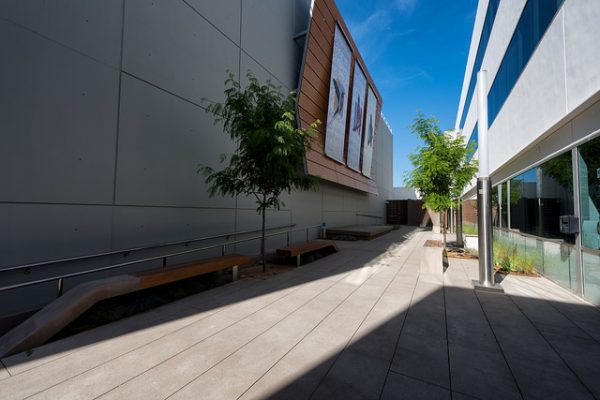 The city broke ground on the project in March 2014 and construction was finished this Spring. It is the first municipal project of its kind on the West Coast and it includes a 200-space parking garage that matches the height of the city's three-story City Hall building.
There is less tailpipe pollution than a conventional garage. With no idling or circling or searches for available spots, the predicted reduction in CO2 emissions for the project is equal to taking 92 cars off of the road each year or planting 67,000 trees.
The automated garage contains four bays for entry and exit. Each bay features a hand-painted mural by artists including Art of Chase, MONCHO1929, Bronwyn Lundberg and Kim West. The garage features a large glass pane facing east toward Sweetzer Avenue where people can watch as mechanical shuttles carry vehicles in and out of bays. The window includes a fixed-art installation by renowned public artist Ned Kahn, with a grid of large clear marbles that reflect moving parts inside the garage. The structure also contains roof-mounted photovoltaic solar panels, features the use of a sustainable material made from recycled grocery bags, and uses drought-tolerant landscaping.
The community plaza, which is a park-like space with trees, built-in benches and a water feature, contains a stage for community events, concerts and readings. The plaza holds a large-scale triptych art-banner installation, which is a collaboration of artist MONCHO1929 and West Hollywood City Poet Steven Reigns.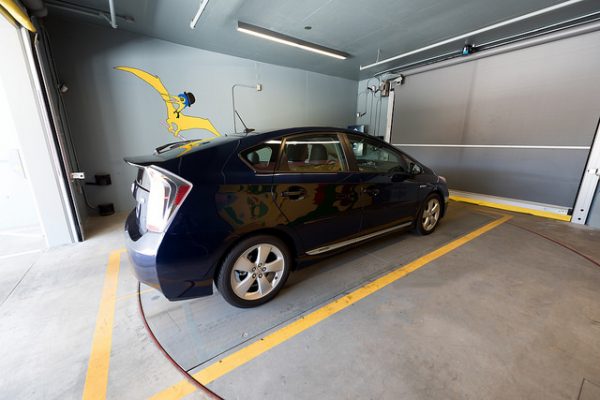 "It's a clean, green, parking machine," said Councilmember John D'Amico, "Once again, WeHo brings technology and convenience to our way of life, expanding parking options for our residents, neighborhood businesses, and City Hall visitors."
"I heard from many residents and businesses that there was no parking in Midcity. But, demolishing existing businesses to build a parking lot wasn't an option," said Councilmember John Duran. "So we researched innovative ideas in European cities with limited land and realized a robotic garage without ramping would create 200 parking spaces. This perfectly complements the concept of a theater district in Midcity."
"Once again, the Creative City takes the lead in innovation on an issue critical to everyone in West Hollywood — parking," said Councilmember Lindsey P. Horvath. "We are thrilled to provide this much-needed resource for the benefit of all."
The automated garage was designed by LPA, Inc., a sustainable design architecture firm, which has completed numerous award-winning public and private buildings throughout Southern California. The mechanical system that stores and retrieves vehicles was designed by Unitronics, an international leader in automated parking systems. The structure was built by T.B. Penick & Sons Inc., a San Diego-based contractor that has built numerous parking structures, and private and municipal buildings around Southern California.
Specific information about the West Hollywood City Hall automated garage and community plaza project is available online. An album of downloadable photographs is posted on the City of West Hollywood's Flickr page.