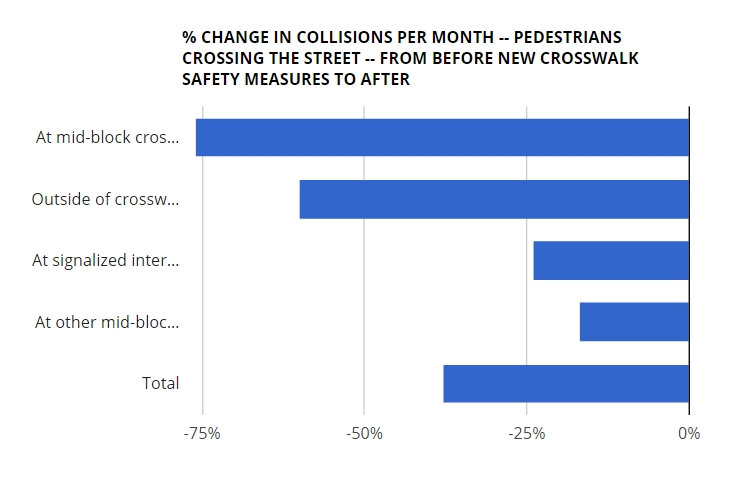 Collisions involving pedestrians crossing the street dropped 38% after West Hollywood added safety measures. That is according to an analysis of the city's collision counts by WeHo by the Numbers.
Pedestrian deaths in 2013 and 2014 led the city and community members to take steps to increase crosswalk safety. Starting in October 2014, the city launched a public information campaign, enforcement efforts and safety messages on various message boards. By January 2015, in-street signs and reflective pavement markers had been installed at ten crosswalks. The city also began planning for traffic signals at five crosswalks.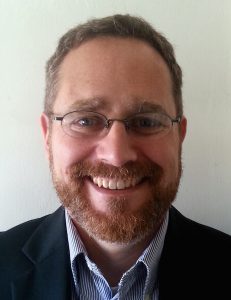 The city staff counted the number of collisions involving pedestrians crossing the street, before and after the changes. The before counts were 53 in 2013 and 36 in 2014. The after counts were 26 in 2015 and 12 in the first four-and-a-half months of 2016.
WeHo by the Numbers converted those counts to monthly averages, for ease of comparison. Before the changes, there were 4.4 collisions per month in 2013 and 3.0 in 2014. After the changes, the numbers dropped to 2.2 per month in 2015 and 2.7 per month for the beginning of 2016.
We then calculated the reduction in collisions by comparing 2013 and 2014 combined to 2015 and early 2016 combined. The number of collisions per month dropped 38%. A test showed that the reduction was statistically significant. To date, 20 or more pedestrians may have been protected from collisions that might otherwise have happened.
The reduction in collisions was also calculated for different types of crossings. Collisions outside of crosswalks were down 60%, while those at signalized intersections declined 24%. Mid-block crosswalks without in-street signs saw a 17% reduction.
The biggest reduction, 76%, was at mid-block crosswalks with the new in-street signs. Those crosswalks had 13% of the collisions before the signs were installed and only 5% afterward. In-street signs have also been effective in other jurisdictions, according to studies reviewed by WeHo by the Numbers.
For more information, please see the WeHo by the Numbers article, Are West Hollywood crosswalks safer today?