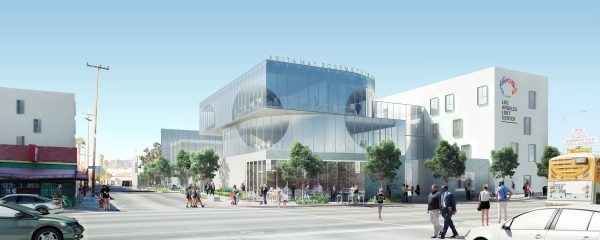 The L.A. LGBT Center will break ground Saturday on the Anita May Rosenstein Campus, a complex in Hollywood that will offer multi-generational services and housing, including 135 units of affordable housing for seniors and young people, 100 beds for homeless young people and new centers for young people and seniors. Spanning more than a city block, the campus will connect with the center's arts, cultural and educational facility—The Village at Ed Gould Plaza—located directly across the street.
The campus, designed by Leong Leong—recently honored by the Architectural League of New York as one of this year's "emerging voices" architectural firms—and brought to fruition by executive architects Killefer Flammang is scheduled to be completed in early 2019 as the center marks its 50th anniversary. So far $35 million has been collected toward the goal of $40 million for construction of the campus. That includes $7 million from philanthropist Anita May Rosenstein through the Anita May Rosenstein Foundation, Wilbur D. May Foundation, and the Anita and Arnold Rosenstein Family Foundation.
"Nearly a decade ago, we began to dream of a project unlike any other: a beautiful multi-generational campus with new and expanded social services, together with affordable housing for seniors and youth," said Center CEO Lorri L. Jean. "More than that, we dreamed of uniting it with The Village at Ed Gould Plaza, our arts, cultural and educational facility. Combined, the two locations will offer more integrated services for LGBT people than any other place in the world. I'm enormously grateful to the many donors, community and elected leaders, and financing partners who are making the dream a reality. The need for the Anita May Rosenstein Campus has never been greater and so is the need for the health and mental health services that we'll be able to expand in our McDonald/Wright Building when we relocate staff and programs to the new campus."
The center has secured federal tax credit financing that will result in a subsidy of over $9 million for the campus. Partners in that subsidy are TELACU, Los Angeles Development Fund, Genesis LA, Low Income Investment Fund and Wells Fargo.
The groundbreaking will take place at 10 a.m. at 1116 North McCadden Place in Los Angeles. Speakers will include L.A. Mayor Eric Garcetti, L.A. City Councilmember David Ryu, center board member and capital campaign co-chair David Bailey, center board member LuAnn Boylan, and Levon Riggins, a center client