Faced with dozens of letters in opposition and a crowd carrying signs saying "voluntary," the West Hollywood City Council last night quickly yielded to owners of condominiums who demanded it not require them to protect their buildings against earthquakes.
The letters, many of them from owners of units in the celebrity-famous Sierra Towers on Doheny, cited the high cost to them of preparing their building for safety before the next, and inevitable, earthquake.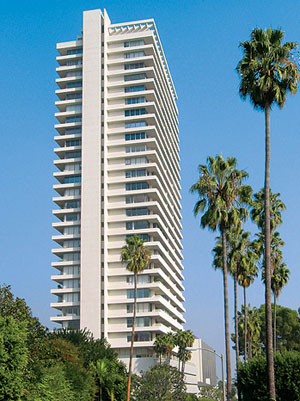 Jim Goodrich, who identified himself as a resident of Sierra Towers, said the cost to condo owners would be as much as $600,000 to $1 million per unit. Recent real estate listings show two-bedroom, two bath condos in the building available at prices from $7 million to $5 million. Goodrich said his estimate includes what he estimated as $31 million in basic construction costs allocated over the 145 units, plus $200,000 to remove existing asbestos, $80,000 for rent elsewhere while construction was being done and $100,000 to $500,000 "to repair high-end finishes" inside the condos damaged by the work.
Objections also came from owners of condominiums in buildings such as Doheny West, the Plaza Towers and Shoreham Towers, among others.
The residents argued that their buildings had suffered little or no damage during the 1994 Northridge earthquake and that the decision to protect themselves from further danger should be "voluntary," thus the slogan on their signs.
The City Council agreed in April to require so-called "seismic-retrofitting" for wood-frame buildings with soft or open front walls such as those with first floor "tucked in" parking areas. It asked city staffers then to return with more information on a proposal to require strengthening of non-ductile concrete and steel frame buildings. "Non-ductile" refers to brittle concrete that isn't reinforced with metal mesh or bars.
A report to the council from the city's Community Development Department noted that it is looking to "provide alternatives to the mandatory ordinance for non-ductile concrete and steel moment frame buildings while at the same time maintaining the intent of the ordinance which is to increase life safety and minimize building damage in the event of a major earthquake." The report said the department hopes to return with alternatives this Fall.
"Although we have experienced major earthquakes in Southern California such as the 1971 San Fernando Earthquake and 1994 Northridge Earthquakes, these earthquakes were far enough from the city that they did not have a high shaking intensity to significantly damage buildings in West Hollywood," the report said. "The city was fortunate in these instances, however according to the USGS (U.S. Geological Survey) there is a high probability that a significant earthquake could occur in the West Hollywood area with high shaking intensity."
Councilmember Lindsey Horvath moved that the city's Community Development staff return to the council with an ordinance exempting condo buildings from taking the required safety measures, which was approved by a unanimous vote.
While owners of expensive condos will get a pass, owners of the 780 "soft-story" apartment buildings in West Hollywood have until 2023 to retrofit them to protect them from earthquake damage. Such retrofits could require four steel frames for a total cost of about $160,000 per building. The City Council has asked that a consultant study whether building owners should be allowed to pass some of the retrofit costs on to a building's residents. No state or federal grants are available for seismic retrofits, but a few companies do offer loan programs.