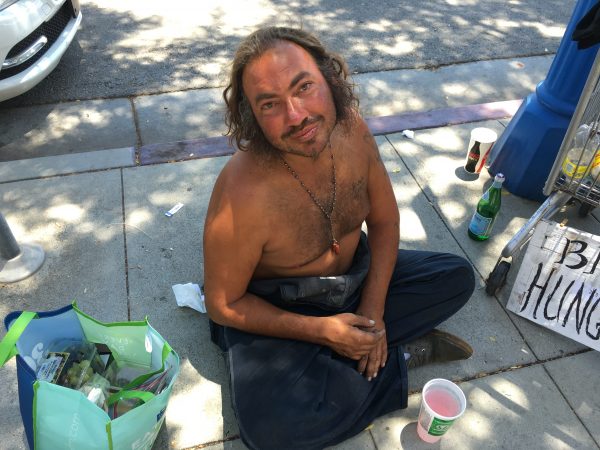 Not all West Hollywood's residents live in expensive single-family homes or condos or apartments. Over the past few years there has been a small, but constantly growing number who live on our sidewalks.
Last year the estimate was 87, nearly double the 43 from the year before. The number of homeless people in WeHo from this year's January count inexplicably won't be released by the Los Angeles Homeless Services Authority until July. But a walk down Santa Monica Boulevard suggests it has grown.
Getting those folks off the sidewalks and into housing isn't an easy issue. One reason is that it's a regional issue, and unlike Donald Trump's vision for U.S. relations with Mexico, WeHo has no plans to build a wall on La Brea Avenue.
Perhaps no one knows the complexity of the issue better than Corri Planck, a city social services supervisor, who was asked earlier this year to coordinate city programs that assist the homeless and help get them off the streets. As Planck has explained, some are mentally ill, some are addicted to drugs, some for whatever reason just want to live on their own.
"Have you ever been camping?," one homeless fellow asked when I stopped on the sidewalk to meet him. "This is like camping. All I need is a shower."
There are, however, interesting efforts around the country to engage with the homeless that might merit consideration in WeHo. They don't remove homeless people from the streets (L.A. County and the City of West Hollywood have programs to help with that). But they do provide services that can put smiles on the faces of homeless people and make it more likely for us to see them as neighbors rather than "transients," which is the government jargon for "homeless." That viewpoint is an essential first step if we are to get the homeless into homes.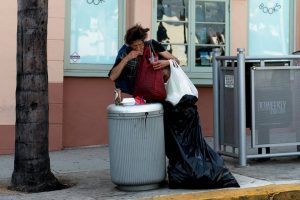 Below are a few efforts underway in other cities. WEHOville would like to hear your comments on these and your suggestions of other services that could give our homeless residents the help they need.
LAUNDRY
Homeless people aren't inherently dirty, although their clothes might be. After all, they don't have access to a washer or dryer or the money to use a laundromat. If you've ever had to put on an overused shirt or skirt or pair of pants because you're behind on your laundry chores, you know how uncomfortable that can be.
Denver, according to the L.A. Times, "finds a simple and innovative way to help the homeless — wash their clothes." The Denver laundry truck roams the city three times a week, providing washing, drying and folding services for homeless people.
"Walking around in dirty clothes only furthers your feelings of being an outcast," said Marcus Harris, the laundry truck captain. "This is about basic human dignity."
SHOWERS
One big barrier between homeless people in WeHo and those of us who pass them on the sidewalks is how they look. The dirty hands and feet, the smudged faces — our aversion is a natural reaction.
So why not offer them showers? The Saban Clinic does at its locations on Beverly Boulevard and Hollywood Boulevard. But given their limited hours and distance, most of WeHo's homeless residents don't use them.
A better solution might be mobile showers, which are available in big cities across the country. In St. Louis, Mo., for example, a volunteer working with the homeless realized that giving them free soap and shampoo was meaningless if they didn't have a place to use it. So Jake Austin created "Shower to the People," a van that rolls throughout St. Louis, offering free showers to homeless people. The non-profit works with a plumbers union, a linen supplier, a truck company and a religious organization to provide its services.
In Los Angeles and San Francisco, there is Lava Mae, which offers similar services. Its shower bus makes eight stops during weekdays with one in Venice and others in downtown Los Angeles, including two on Skid Row. Doniece Sandoval launched the non-profit in San Francisco in 2013 by converting public transportation buses into showers and toilets on wheels. Should it be asked to expand to West Hollywood?
GROOMING
Another way to improve the self-esteem of the homeless (and the way we view them) is with a haircut. In many cities, individual hairdressers give haircuts to homeless people. That has happened in West Hollywood, where a woman who WEHOville hasn't been able to identify was seen grooming a homeless man on a sidewalk recently.
This Spring, two hairdressers in Brisbane, Australia, took a small trailer and turned it into a mobile barber shop. Danielle Hannah and Teresa Reed got support from the Queensland government and local sponsors. Their goal is 1,000 free haircuts by the end of the year.
"It's not just walking out with that bit of pride and dignity," Hannah said in an interview with ABC in Australia, "but to feel like you belong again, you feel accepted."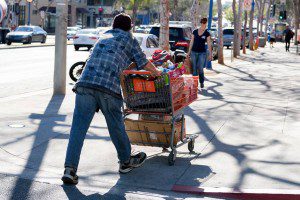 INTERACTION
About six months ago on a Sunday morning, I stopped on the sidewalk on Santa Monica Boulevard for a chat with Johnny, one of WeHo's less-than-transient homeless people. Johnny, pictured above, shared some crackers and cheese that a woman had dropped off — leftovers from a party the night before. But more important, he shared about himself and how he makes those artful signs proclaiming his homelessness. A few months later, I spotted Johnny sitting on the sidewalk at Robertson and Santa Monica boulevards, screaming loudly and alarming the people around him. I walked up and asked, with a smile: "Johnny, what the hell is going on?" Johnny stopped screaming, smiled back and said "hello."
My brief interaction with Johnny didn't take him off the street. But the fact that I always acknowledge him (and recently praised him for his new haircut) just may make him feel more like he's one of us.
There are organizations in other cities that try to interact with homeless people and coach others on how to do it. The theory is that acknowledging their humanity will help a bit in the very complex effort to pull them into life.
Hope for New York, a non-profit that deals with homeless people, offers a lot of advice on how to engage with your homeless neighbors.
Among those tips:
— Don't offer a homeless person money for food. Offer instead to buy him or her some food and share it. A brief conversation over a burger or hot dog satisfies the hunger but also tugs your homeless fellow diner back into the community a bit. If you don't have time for that meal, consider carrying a piece of fruit or a granola bar that you can offer.
— Don't engage with a homeless person of the opposite sex alone, and especially if he or she isn't in a very public place.
— When a homeless person asks you for money, look him or her in the eye and introduce yourself with a smile. Offer a handshake, and if you have time stop for a brief conversation. You can buy a meal, or even offer to buy that person's sign, if you find it as engaging as I might. And the next time you see that homeless WeHo resident, remember to say hello.
— Once you've gotten to know some of WeHo's homeless residents, consider banding with a couple of friends and inviting them to a quick dinner somewhere. Astroburger, Fat Burger, McDonalds are places they're likely to feel comfortable. Spend the meal asking them questions about their lives, not talking about yours. You'll learn that they are human beings, and they will begin to feel accepted.
I'd suggest being cautious if a homeless person shows obvious signs of anger or violence such as screaming or cursing or making threatening gestures. If he or she really seems to pose a potential danger, call 911.
Please share your ideas in the comments below.