A City Hall proposal for some quick fixes to traffic safety issues on Fountain Avenue got the support last night of residents whose longtime concerns were heightened in September by the death of a local resident who was hit by a car while crossing the avenue.
The proposal, presented at a community meeting at Plummer Park, called for implementing variety of measures focused primarily on the intersections of Fountain with Harper Avenue, Havenhurst Drive, Hayworth Avenue and La Brea Avenue. Those intersections were chosen based on the number of collisions there and the city's ability to implement fixes relatively quickly.
Hany Demitri, West Hollywood's acting city engineer, said he expected that work could be completed this summer if the proposals are approved by the City Council when it reviews them next month.
A study of traffic accidents on Fountain from 2012 to 2016 determined that 41% of the 179 collisions were "broadsides," meaning one vehicle crashing into the side of another as a car attempts to cross Fountain from a side street or make a turn onto it. The next largest number (21%) involved rear end collisions, and 14% were head-on collisions. Demitri said an average of 35,000 cars each day drive along Fountain.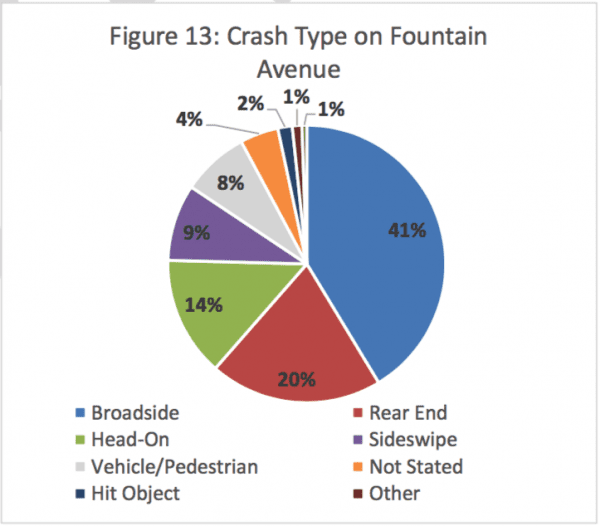 Many of the immediate measures are intended to reduce those broadside collisions by reducing the number of left turns made on Fountain from intersections without stop lights. A map illustrating those collisions shows that they constituted 32% of the 179 total collisions between 2012 and 2016, with most of them involving vehicles headed south toward Fountain.
The immediate solutions, recommended by the city's Long Range and Mobility Planning Division and based on study by Fehr & Peers, the traffic consultant, include:
–Installing a median on Fountain at its intersection with Harper that would make it impossible for drivers headed north or south on Harper to turn left onto Fountain.
–Installing signs on Havenhurst and on Hayworth alerting drivers that only right turns are permitted onto Fountain.
–Adding a right turn lane on Fountain on the west side of La Brea Avenue and extending the length of the left turn lane on Fountain at La Brea so that cars wanting to turn left don't impede those heading east across La Brea. Also, on Fountain just east of La Brea, the city would remove some parking space and create a "bulb out," which effectively reduces the width of Fountain and thus would slow cars headed west across La Brea.
Other pedestrian and traffic safety measures include installing islands in the middle of Fountain that make it easier for pedestrians to cross at intersections like Flores Street, installing a left turn light at the northbound intersection of Crescent Heights Boulevard with Fountain, and putting crosswalks with lights signaling that pedestrians are crossing at intersections such as Orange Grove, Havenhurst and Harper avenues.
Several residents at the meeting congratulated the City Hall staff for the work it has done on those proposals and gave the staff a round of applause at the end of the meeting.
However, while praising the proposals one Fountain Avenue resident at last night's meeting asked, "Is there any hope ever of it going back to the quiet little road it used to be?"
No one offered "yes" as an answer to that question, but Bianca Siegel, the city's Long Range and Mobility Planning manager, said the city wants to make Fountain appear more pedestrian friendly to drivers, who then would be less likely to see it as a place to drive fast.
While the Fehr & Peers study revealed that nearly 66% of trips on Fountain involve drivers crossing through West Hollywood, City Councilmember John D'Amico said that he and his fellow council members still agree that Fountain "In fact is a residential street, and that's what we are trying to bring back to Fountain Avenue. But it's still going to have a lot of traffic."
Walter Davis, West Hollywood's neighborhood traffic management program specialist, said the city will study the effects of the short term changes as it begins to institute the intermediate and longer term measures. Among those measures will be efforts to improve the walkability of sidewalks along Fountain, parts of which are very narrow or somewhat blocked by power poles and fire hydrants. Other measures include changing some stop lights to give pedestrians priority in crossing the street before cars can move forward, more crosswalks with lights signaling that pedestrians re crossing and installation of medians or curb bulb-outs that will slow traffic.
Davis said the City of West Hollywood also has begun talking with the City of Los Angeles about traffic safety measures that can be implemented on the north side of Fountain Avenue. The north side of Fountain from North Fairfax Avenue to La Brea lies within the Los Angeles city limits.
Davis said the city hopes to have a schedule developed for the intermediate and long term measures soon.
Lt. Edward Ramirez of the West Hollywood Sheriff's Station said it has stepped up enforcement on Fountain in recent months, with more of a police presence there. For example, Ramirez said, officers on foot patrol nearby are asked to park their vehicles on Fountain in the hope that the presence of Sheriff's Department cars will cause drivers to drive more slowly.
Traffic citations on Fountain Avenue, which totalled 600 in 2014, fell to 497 in 2015 but then climbed to 654 last year, Ramirez said. He said those citations do not include warnings given to drivers whose actions were not so egregious as to warrant a citation.