It's incredibly complicated. And at the end of the day, like most things in life, it mostly comes down to money.
That was my takeaway from the West Hollywood City Council's Homelessness Study Session on Monday night.
The session brought together an impressive group of people that included experts in areas such as outreach to the homeless, housing and drug-abuse and mental health services, safety and law enforcement, civil rights and planning for the use of money from the recently approved L.A. County Measure H, a .25% increase in the sales tax that is expected to generate millions of dollars annually for services to combat homelessness across Los Angeles County.
Several things were encouraging:
–Statements by West Hollywood Sheriff's Capt. Sergio Aloma and Lt. Edward Ramirez and by Lt. Geoffrey Deedrick. of the Sheriff's Department's Homeless Outreach Services Team (HOST) that they intend to enforce the law and ensure the safety of the public they serve and also treat the homeless with respect.
"Whether someone is homeless or not isn't relevant if a crime is involved," Aloma said. He told the study panel that deputies last year made 320 arrests in WeHo of homeless people for various crimes, vastly more than the total of 303 that they arrested in 2015 and 2016 combined.
However, Aloma also stressed that when it comes to the homeless, "the sheriff's department is committed to a compassionate approach … one of the things we have encountered is the trust issue that the homeless have experienced with traditional policing."
In that regard, Aloma said that in recent months local Sheriff's deputies, working with city staffers and homeless services providers, have contacted over 140 homeless people in West Hollywood and encouraged them to seek help.
"I don't think we can 'arrest' ourselves out of this issue," he said.
Aloma's mention of 320 arrests last year alarmed some in the study session audience, given that the annual homeless count totaled 105 in WeHo in 2016. That count, however, is a "point-in-time" count. Aloma noted that the much larger number of arrests is evidence that the homeless population is indeed transient, with different homeless people migrating through WeHo all the time.
–The sense of pride evidenced by Matt Gill, manager of the West Hollywood Library, as he described its collaboration with the City of West Hollywood in providing homeless people with access to a variety of social services representatives at the library.
"Unscientifically, I would say that at any specific time, 25 to 30 percent of the people in the library are homeless," said Gill, whose pride at being able to help stands in sharp contrast to complaints from some WeHo elected officials and residents about homeless people using the library.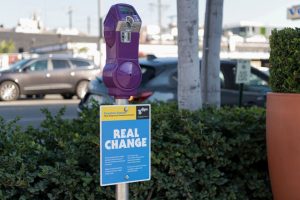 –A suggestion by City Councilmember John D'Amico, who in the past has been dismissive about helping the homeless, that the Metro bus depot on Santa Monica Boulevard near San Vicente might be a good location for shelter for homeless people during especially cold and wet periods.
–City Councilmember Lauren Meister's suggestion that we look at efforts to deal with homelessness in other cities across the country and at the recent announcement by the AIDS Healthcare Foundation that it has purchased the rundown Sunset 8 motel in Hollywood to offer transitional housing for homeless people and families with health problems.
–The statement by Molly Rysman, housing and homeless deputy to L.A. County Supervisor Sheila Kuehl, that they are working on a plan to make it easier to convert motels into housing for the homeless. Tod Lipka, CEO of Step Up on Second, which provides shelter and other services to those who are chronically homeless and have a severe mental illness, said there are thousands of motels in Los Angeles County where such conversions are possible. One example cited by several people after the session is the Holloway Motel at 8465 Santa Monica Blvd., which is only a few hundred feet from the Sal Guarriello Veterans Memorial park, where homeless people now camp.
–The revelation by Colleen Murphy, outreach coordinator for the Los Angeles Homeless Services Authority (LAHSA), revelation that they are working on a telephone app that will help residents figure out who to call to deal with homelessness issues ranging from sickness to need of shelter to committing crimes. Currently, given the large number of service providers across the county, there is a lack of clarity about who does what where. The telephone app would let one make single contact with someone who can figure that out.
–Several steps the City of West Hollywood is taking to raise public awareness about how it is addressing the homelessness issue and how residents can act as well.
For example, the city debuted at the meeting a three-minute public service announcement video that tells the story of Jake Weinraub, a mental health clinician for the L.A. LGBT Center, who reaches out to connect people who are homeless with a variety of services and programs. The video is available on the city's WeHoTV YouTube channel at https://youtu.be/JTa4e9R8-SI.
Corri Planck, who coordinates the city's homeless services efforts, also discussed its new "Real Change" donation station program, which offers parking meters where one can donate money to help the homeless. The meters, with purple domes and blue and yellow signs, are located at West Hollywood Gateway (La Brea Avenue), Plummer Park (adjacent to the tennis courts), Santa Monica Boulevard at Robertson Boulevard and West Hollywood Park. Councilmember Meister described them as "a great way for community members to support the city's outreach efforts and services to assist people who are experiencing homelessness."
And the city is producing "Homeless Not Hopeless" cards that contain detailed contact information for community members who have concerns about the homeless and "Help Is Within Reach" pocket guides are being used by outreach teams to help people who are homeless to access resources.
What was less encouraging?
Well, Molly Rysman, Supervisor Kuehl's housing and homeless deputy, noted that the big issue is economics, aka money. Yes, a noticeable number of the homeless are mentally ill or suffering from addictions. But the majority just can't afford housing in a state, county and city where slow and restricted development has resulted in high housing prices and in an economy where even a relatively high employment level has done little to boost stagnant wages.
The goal of Measure H, Rysman said, is to house 45,000 homeless people and prevent 30,000 from falling into homelessness. However, she added, there's no way to guarantee that that expenditure of more than a billion dollars over 10 years will result in a drop in homelessness so long as wages stay stagnate and housing costs keep going up.
What can we do about that? Solving the problem takes more than an (urban) village like West Hollywood. It will require a statewide effort to make construction of new housing easier, an effort recognized by the state legislature and Gov. Jerry Brown with recent laws to streamline the development process.
Thankfully, in West Hollywood, 93% of  rental units are covered by the city's rent stabilization law. That protects many of the 78% of the city's residents who are renters, and is especially important given that 41% of the city's residents have low or very-low incomes.
However, that rent can be raised to the market rate when a tenant moves out. That provides an incentive for  apartment building owners to push tenants out so that they can raise the rent to the market rate, or sell the property to a developer who can convert it to a new and bigger apartment or condo building that won't be covered by the rent stabilization law. One day that  homeless man you see urinating in front of an apartment building in West Hollywood may  be someone who once lived there.