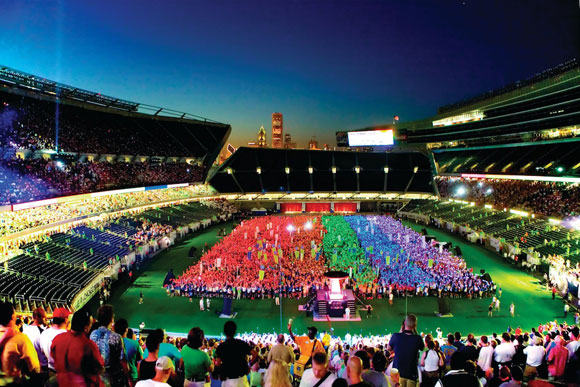 The Federation of Gay Games will honor the Trevor Project and Outsports.com at an Oct. 21 brunch in West Hollywood. The brunch is one of a series of events scheduled in West Hollywood for Oct. 20 and 21 in honor of the 30th anniversary of the Federation (www.gaymes.info/gaygames30), an organization of 40 LGBT athletic organizations from around the world that promotes and chooses the site for the quadrennial Gay Games.
As part of the Federation's Legacy Awards ceremony, Outsports.com, the Los Angeles-based online sports website created by Jim Buzinski and Cyd Ziegler in 2000, will receive the Media Award.
The Trevor Project, the leading national organization providing crisis intervention and suicide prevention services to LGBT young people, will receive the Youth Award.
Others honorees include author and athlete Patricia Nell Warren, who will receive a Federation Medal of Honor, and Honduran human rights activist Erick Vidal Martinez, who will receive a Social Justice Award. West Hollywood Councilmember John Heilman will receive the Local Hero Award, and West Hollywood Aquatics will receive the Local Organization Award. The FGG also will honor Mikey Witt as Volunteer of the Year and former FGG Board member Joseph Pasquarella Smith as an Honorary Life Member.
Philippe Kahn will receive a Legacy Award for Youth Outreach and Coaching. Finally, the Federation will present a Medal of Honor to filmmaker David Secter. The brunch will be held at the House of Blues, 8430 Sunset Blvd., in West Hollywood.
Also on Oct. 21, the Federation will stage a Memorial Moment, a public ceremony acknowledging those who have been part of the global fight for LGBT rights. Legacy Award recipients will be the featured speakers at this event.
On Oct. 20, the Federation will organize book readings and community forums at the West Hollywood Public Library. Local LGBT sports groups will host free games and exhibitions in West Hollywood Library Plaza and Auditorium and other area venues.
The games will include dodgeball and quidditch – a land-based version of a sport played in the "Harry Potter" book and film series. There will also be a "King of the Mat" wrestling exhibition along with a cheer exhibition and music provided by the Revolution L.A. marching band.
Organizers from Gay Games 9: Cleveland + Akron 2014 (www.gg9cle.com) will be on hand offering special registration promotions for their Gay Games scheduled for 2014.