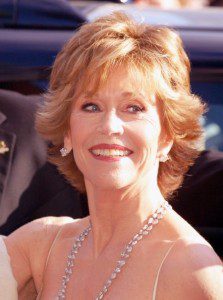 The West Hollywood City Council meeting was short, but star-studded Monday night as legendary actress Jane Fonda made a quick cameo, speaking before the council on an issue she's championed for more than a decade.
With former city councilmember Lindsey Horvath at her side, Fonda asked that the city support a global campaign called One Billion Rising to end violence against women.
One Billion Rising is a call for 1 billion women around the world to join together, and dance in public on Feb. 14, 2013. The event coincides with the 15th anniversary of the V-Day movement that was inspired 14 years ago by Eve Ensler's play, "The Vagina Monologues."
"We want a billion people around the world to rise up, to dance, to pray, to mediate, to chant, to do it in public, to put out the energy to end violence against women," Fonda said to the council during the public comment period.
Fonda's speech highlighted the night's otherwise light agenda. While some WeHo city council meetings are known for running up to midnight, Monday's lasted a little less than 1 ½ hours, and saw every agenda item quickly approved.
Included was approval of the development agreement for the El Mirador apartment building, despite owner Jerome Nash's request for the item be taken off the calendar. Nash has said he will not agree to the terms, and reiterated his threats to demolish the building, and possibly sue the city on Monday.
City councilmembers John Heilman and Abbe Land voted against the El Mirador ordinance. Prang considered tabling it, but said "I feel like we've beaten a dead horse on this, and it's time to vote."
El Mirador has been hotly debated since Nash evicted the building's tenants in September 2010. Nash's presence at the meeting was nothing new Monday.
But Fonda's appearance made a splash.
A number of councilmembers posed for photos with the two-time Academy Award winner before the meeting even started.
In a One Billion Rising promotional video, Fonda explains: "I'm rising because my mother was sexually abused when she was 8 years old and it damaged her life forever. She was never able to really love, or to not feel guilty, and she killed herself when she was 42, and those two things are related."
Monday was, by no means, Fonda's first foray into activism. In 2005, she helped co-found the Women's Media Center, a non-profit that seeks to "ensure women are powerfully and visibly represented in the media."
Fonda's been an influential activist in the feminist movement for more than four decades.
She's also no stranger to controversy. In the 1960s, she was a leading voice in the anti-Vietnam protests. Her 1972 visit to a North Vietnamese anti-aircraft gun site caused an uproar. She later said it was, "the largest lapse of judgment that I can even imagine."
Horvath, who has directed and produced the "Vagina Monologues" at Notre Dame, and in West Hollywood, is regional outreach coordinator for One Billion Rising.
"We believe 1 billion people rising together will shake the world," Horvath said.
According to Fonda, One Billion Rising has raised more than $900 million dollars for its cause.