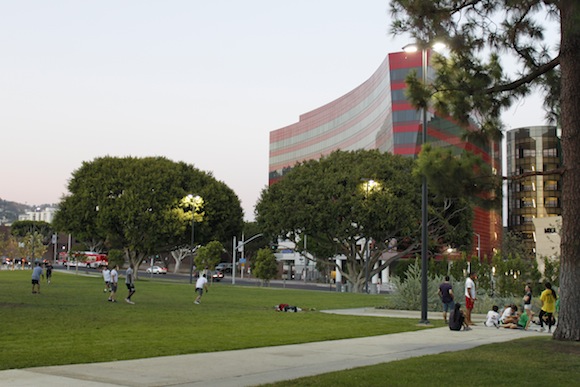 Nine months ago, West Hollywood Recreation Manager Olivia Walker noticed a peculiar thing happening early in the morning at the local parks.
A number of privately run group workouts known as "boot camps" were beginning to appear at West Hollywood and Plummer parks, she said, and they were doing so unannounced to the city.
Today, Walker says the city has a real problem on its hands.
Outdoor boot camps, which are fast-paced workouts that combine strength and endurance exercises, are continuing to gain popularity in West Hollywood, but a number of them are run without the proper park permits and have been "disruptive," Walker contends.
"The groups are basically taking over the place," she said.
The city even has a name for them: "rogue boot camps."
However, leaders of those boot camps say they've been left in the dark on park rules, and, more importantly, can't find a permit requirement in the current municipal code.
Leaders of these "rogue boot camps" say the city's current municipal code that covers park rules and regulations does not state that a person needs a permit to run a training session on public property for monetary gain.
"We're currently reviewing the city municipal code to include group-training sessions," Walker said. "We want to also include that you can't operate a business as a personal trainer on park property without a permit."
Walker contends some have been disruptive.
"It's based on three components: Damage we notice, blatantly apparent larger groups and an uptick in complaints from other patrons," Walker said.
As of last week, despite calls from the city to stop the camps, group-training sessions have continued to run in the public parks. In at least one case, parks employees have asked a trainer to leave, and not return until the alleged permit had been obtained.
Bryna Carracino taught her classes in Plummer Park for 1 ½ years before she was twice approached by park employees and told to pack up. She says she didn't know her classes were an issue.
"(The park employees) came at me in an aggressive way saying I needed a permit or I needed to leave the park," Carracino said. "When I did visit City Hall to get one, I was told they don't have a permit yet and they're in the process of getting one. … What they're doing doesn't sound very legal — you cannot force someone to get a permit if you don't legally have that for your park."
Just last week, Carracino found a new studio where she could operate her business. However, she said other trainers are still working out with clients at Plummer Park, most likely because they do not know the city is requesting they obtain a permit.
While outdoor demand has grown recently, indoor "boot camp" opportunities have existed for some time in West Hollywood.
West Hollywood has at least 10 indoor facilities that offer group training opportunities regularly. One is Barry's Bootcamp. It has been operating out of its WeHo location since 1998 and has since expanded nationally, and even internationally to locations in Norway and England.
Barry's offers classes seven days a week and has 12 local instructors. Morning classes consistently sell out all 37 spots, according to sales associate George Loomis.
Max Phoenix, the director of WeHo's Metabolic Bootcamp, said the group atmosphere makes them successful.
"It's holding people accountable and that's what people need; that's the magic remedy," he said.
Phoenix started his program four months ago. He expected his classes to be "seven people working out at a park," but after he pre-sold packages on Facebook, the inquiries starting pouring in.
"It kind of took on a life of its own, so I went to Mansion Fitness (on Santa Monica Boulevard) and asked to rent their downstairs space for two days a week," Phoenix said.
Because Phoenix rents from Mansion Fitness, he doesn't need to worry about any permits. But that may change as the trend leans toward the outdoor variety.
Walker said the city is looking into offering a permit that will ensure the city is compensated if damages occur and can monitor trainer's credentials and insurance policies. It will prevent the running of a private business on public property.
Currently, only one clause comes close to addressing the situation (Section IV, A, 13): "use of any of the facilities or areas of the park for the purpose of providing tennis or golf instruction for monetary compensation without first having obtained a permit from the Department unless as part of an approved recreation program" is illegal.
The current municipal code was adopted in 1990 and hasn't been updated since 1996. To amend the current park rules and regulations, a resolution must be proposed and the city council must pass, approve and adopt it.