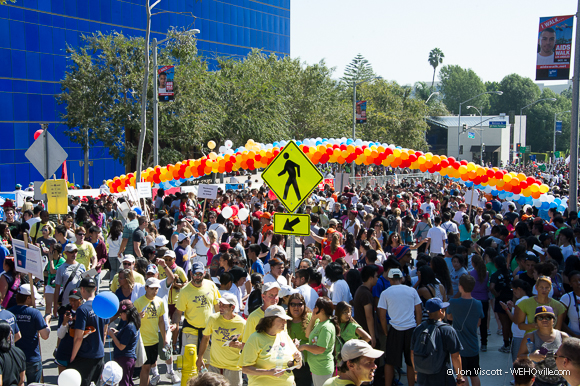 [dropcap]T[/dropcap]his weekend the City of West Hollywood will host the 2012 AIDS Walk Los Angeles (AWLA) on Sunday. Check-in for the walk begins at 8:30 a.m. The Opening Ceremony is set to take place at 9:15 a.m. at the intersection of San Vicente Boulevard and Santa Monica Boulevard with the walk beginning at 10 a.m.
AIDS Project Los Angeles held the world's first AIDS Walk on July 28, 1985. Organizers hoped they would raise $100,000, that day. However, the attendance was greater than anticipated and 4,500 walkers marched out from the starting point at Paramount Studios. They far surpassed their 100K goal, bringing in $673,000. In 2011, AIDS Walk Los Angeles event raised $3 million dollars in support of AIDS Project Los Angeles and many other AIDS service organizations. The money raised by AWLA benefits AIDS Project Los Angeles and 29 other AIDS service organizations across Los Angeles City and County.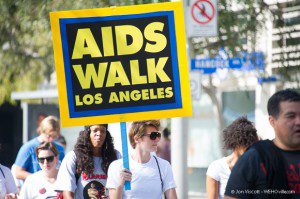 Each day, seven Angelenos are infected with HIV. More than 60,000 in Los Angeles are living with the disease. Over 11,000 of these men and women benefit from APLA's life-sustaining services, which offer food, medical services, housing support, and other necessities to those in need. APLA also provides the county's largest network of HIV prevention programming, testing, counseling, and advocacy at the local, state and federal levels.
AWLA is about 10 kilometers or 6.2 miles, and begins and ends right here in West Hollywood. In an effort to support the Los Angeles Department of Transportation and the Space Shuttle Endeavour move this weekend, AIDS Walk Los Angeles will use a shorter route than in other years.
Many celebrities are scheduled to appear at the AIDS Walk Los Angeles, including Sophia Bush, Christa B. Allen, Leslie Bibb, Barrett Foa, Daisy Fuentes, Andrew Rannells, Drew Carey, Bebe Wood, Jai Rodriguez, Michael Urie, the cast of MTV's "Awkward," and musical performances by "The Voice" contestant Jamar Rogers, and Tony Award Nominee Norm Lewis.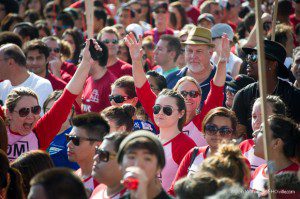 Los Angeles Mayor Antonio Villaraigosa, West Hollywood Mayor Jeffrey Prang, and Chair of APLA's Board of Directors Tom Whitman will speak about the current HIV/AIDS epidemic in Los Angeles County and the essential role APLA plays in the fight against this disease.
If you want to get involved, there are many ways to participate.
Opportunities include walking, volunteering and sponsoring walkers and organizations. There will be a limited amount of free parking at the Beverly Connection and at Cedars-Sinai Medical Towers.
Carpooling is encouraged. Shuttles will be available every 30 minutes before and after the event. Please keep in mind that there will be many street closures and controlled intersections during the walk.