LA's piano bar crowd, saddened by the closing in June of The Other Side in Silver Lake, the city's last gay piano bar, is humming about the next month's opening of Don't Tell Mama in West Hollywood.
"…I am very excited to check it out," said Greg Hernandez, creator of greginhollywood.com, who frequented The Other Side two to three times a week. "And if I like it, I might become a weekly regular because Silver Lake now has a hole in it."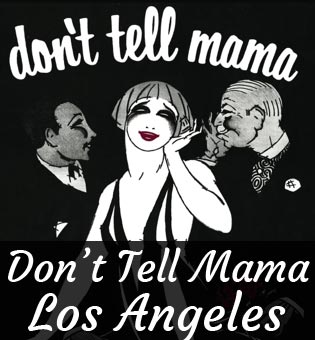 James Lent, a pianist who spent every Friday night for more than 10 years at The Other Side, also is eager to visit Don't Tell Mama. The Other Side "was awesome," Lent said. "I had a fantastic time with a great combination of regulars and new people visiting The Other Side every day.
"There was nothing else like it in the city, and when it disappeared from the map it was devastating," he said. "From a business point, there was nothing wrong. It was going well financially. The owner couldn't look at it with the attention a successful business needed, and he didn't have the time or the drive to give it what it needed. So, it was easier for him to sell it. It's a shame he let it go."
The Other Side, known as the Toy Tiger when it opened in 1978, was a refuge for older gay men, many of whom had survived police raids and beatings in the homophobic 1960s and 1970s. Jane Cantillon chronicles it in a documentary titled "The Other Side: A Queer History." She tells part of the story in this promotional video.
Paul Hargis, owner of The Other Side, told LA Weekly that he closed the combination bar and restaurant because a fulltime job out of state made it impossible for him to manage it. It was the last of what once were several gay piano bars in Los Angeles.
The original Don't Tell Mama opened on Restaurant Row (West 46th Street) in New York City in 1982 as the Piano Bar Cabaret and soon was renamed after the title of a song by John Kander and Fred Ebb from "Cabaret," the 1966 Broadway musical. A major destination for the Broadway musical crowd and those gay people who love musicals, it has been featured in TV shows such as "Friends" and "Saturday Night Live."
The New York location is both a bar and restaurant, with a New American cuisine menu and a program that includes cabaret, comedy, and piano ballads, as will be the case in Los Angeles.
"You walk in and it is an uptown chic with a twist, cozy space, with a great ambience," said Hell's Kitchen resident Rosella Garcia said. "There are mostly small tables but big parties tend to frequent the place. You see everyone there, from work groups to bachelorette parties to older patrons as well. There is such amazing talent and it is such a fun atmosphere."
Don't Tell Mama is likely to fill another void in West Hollywood, which now has few bars where gay men mix with straight men and women. The Other Side was "very mixed" on Friday nights, Hernandez recalled.
"Gays and gay men were the main clientele most days, but obviously you would have some women there as well, and Friday nights especially, it was very mixed," he said. "It was a place where you could all go, where it wasn't an all under 30-crowd with go-go dancers. Gay people of all ages could feel welcome and comfortable and act like themselves. It really felt like home."
Don't Tell Mama is opening in the space on the north side of Santa Monica Boulevard between Sweetzer Avenue and Kings Road formerly occupied by O Bar, which owners Michael Berman and Thomas Schoos closed after eight years. Schoos plans to open Beach Coffee House on Santa Monica Boulevard.
Don't Tell Mama hasn't revealed a specific opening day for its West Hollywood location.
Meanwhile, James Lent, who is talking to Don't Tell Mama about performing there, recommends a few somewhat distant options. There's AKBAR, where he plays Mondays from 2 to 6 p.m. and The Silver Fox, a Long Beach gay bar, where he plays Fridays from 7 to 9 p.m. Lent also said the Forbidden Lounge, on the south side of Santa Monica Boulevard between La Cienega Boulevard and Knoll Drive, is experimenting with a piano bar program one Friday every month.