The West Hollywood City Council voted Monday night to continue considering designation of historic structures on a case-by-case basis, albeit not without some controversy and a somewhat unusual vote.
The city's Historic Preservation Commission (HPC) had recommended that the Council delay the vote and consider creating some special "thematic groupings" or "historic districts" for historic houses. HPC urged the Council to consider creating a "Craftsman grouping" for 20 bungalows built in the craftsman style prior to 1920. The vast majority of the 20 bungalows eligible for consideration are on the city's eastside.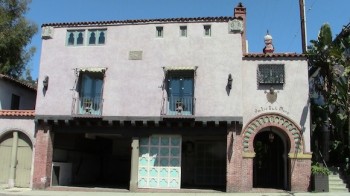 HPC made that recommendation because many of the historic houses in the city, when considered on an individual basis, don't meet the strict, state-mandated criteria for historic designation due to structural alterations and/or repairs over the years.
However, if the city were to create special districts or thematic groupings, which have less stringent criteria, many of those houses would be eligible. A district would consist of houses in fairly close proximity (within a block or two) while a thematic grouping would have a wider range.
During public comment, Historic Preservation Commissioner Ed Levin urged the Council to consider the Craftsmen grouping.
"They're fairly modest bungalows, it seems to make more sense to consider them in the context of a thematic grouping. But because there is no Eastside thematic grouping, we end up reviewing them piecemeal," Levin said. "It doesn't seem like the best way to serve the interests of the Eastside."
City staff recommended the Council ignore the HPC's recommendation and continue to do the individual considerations. The staff report noted that additional staff or consultants might be needed to handle the workload if the city were to create historic districts or thematic groupings.
Although the item was due to get a full hearing as part of the Council's agenda, the Council decided to move it to the consent calendar. Both Mayor Jeff Prang and Councilmember John D'Amico voted "No," saying the city should consider doing historic groupings.