Voter Registration Deadline is Monday
Midnight on Monday, Oct. 22, is the deadline for registering to vote in the Nov. 6 election. California voters who have registered with the state Department of Motor Vehicles can register online at http://registertovote.ca.gov/.
Gay & Lesbian Center Joins LAUSD to Fight Bullying
The LA Gay and Lesbian Center is partnering with the Los Angeles Unified School District in a campaign to reduce sexual bullying in public schools. The campaign, called Project SPIN (Suicide Prevention Intervention Now) trains students, parents and teachers about issues faced by LGBT young people in school.
LAUSD said 172 incidents of sexual bullying were reported last year and that 644 students showed signs of suicidal behavior.
"For too many young LGBT people, the ringing of the school bell connotes suffering instead of learning," said Lorri Jean, CEO of the Gay & Lesbian Center. "Many feel they must hide who they are, while others face merciless harassment and bullying – even violence – on the playground, in the classroom and in the locker room."
Gay & Lesbian Center Moves Homeless Youth Services
This week, the L.A. Gay & Lesbian Center moved all services that were previously provided for homeless lesbian, gay, bisexual and transgender youth at the Jeff Griffith Youth Center to the second floor of the new Highland Annex building at 1220 N. Highland Ave. in Los Angeles.
Though this move is only four blocks east, the change will be considerable. The larger 12,675-square-foot space on Highland has room for 20 emergency overnight beds. Young people ages 12 to 24 also will be offered services including three meals a day, clothing, showers, counseling, education and employment assistance.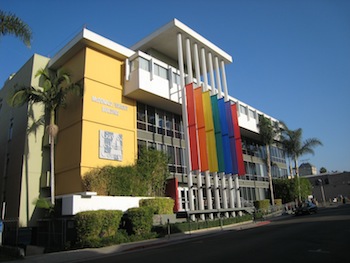 "Since the earliest days of the L.A. Gay & Lesbian Center, we've been caring for homeless youth," said CEO Lorri L. Jean. "Through our advocacy and many youth programs, we're fighting to make the world better for young LGBT people so that future generations don't face the same struggles. But the stark reality is that this problem isn't going away anytime soon. We never want to turn away a young person who is in dire straits, and the number of youth turning to us for help continues to climb. Moving our homeless youth services to our new Highland Annex will give us the capacity to care for more youth in need than ever before."
According to the Center, LGBT young people account for 30 to 40 percent (or roughly 2,300) of homeless young people in Los Angeles.
Frontiers LA to Get Its Go-Go On
Frontiers magazine has invited readers to vote for their favorite go-go dancers. The seven finalists with the most votes will  perform live at the City of West Hollywood's second annual Go Go Festival as part of Go Go Appreciation Day. The event will take place on Larabee Street between Eleven and Micky's i on Saturday, Oct. 27 at 7:30 p.m. Judges and the audience will choose the winner and runner-up. The dancer with the most votes wins a trip to Palm Springs and a cover shot for Frontiers.
Coffee with the Councilmembers
Ever wanted to have a latte with some legislators? Here's your chance. West Hollywood City Councilmembers John Duran and John D'Amico are inviting the people of West Hollywood to meet them and to discuss issues affecting the city at the Starbucks at 8595 Santa Monica Blvd. on Saturday, Oct. 13,  from 11 a.m. to 1 p.m.
Get your cat/dog vaccinated and microchipped, cheap
SPCA LA and the City of West Hollywood are joining forces to offer pet microchipping and vaccinations on Saturday, Oct. 27, at City Hall, 8300 Santa Monica Blvd. The clinic opens at 9 a.m., and takes its last pet at 12:30 p.m.
"Microchipping your dog or cat is one of the most responsible actions you can take," said Mayor Jeffrey Prang. "Sadly, many pets end up at shelters every year because they don't have proper identification, and some are never reunited with their pet guardians. With our low-cost vaccination and microchipping clinic, there's no excuse not to be prepared in case your dog or cat decides to take off on his own little adventure."
Microchipping for both dogs and cats costs $25. The clinic also will offer $5 dog and cat rabies vaccinations as well as $15 DHPP for dogs and $10 Bordetella for dogs. FVRCP and Leukemia vaccines for cats will be offered for $15.
Parking will be available off Sweetzer Avenue behind  City Hall. For more information, call (323) 848-6895. For the deaf and hard of hearing, call (323) 848-6496.
City Sponsors Sobriety Photo Contest
Put down your drinks and pick up your cameras.  The City of West Hollywood is sponsoring a photo contest with the theme "What Does Sobriety Look Like to You?" This contest is a chance to support substance abuse prevention and get in touch with your inner photographer.
The winning photo will be featured in a substance use prevention and education campaign by the city's Social Services Division. The winning photographer will receive prizes including a digital camera, a "healthy living" gift basket and a framed version of his or her winning photo. Photo submissions will be accepted until 5 p.m. on Friday, Oct. 26.
ROFL Cafe Celebrates Grand Opening
The Republic of Laughter, which describes itself as a "happiness café,"  recently celebrated its official grand opening at 7661 Melrose Ave. Its chef is Govind Armstrong, Wolfgang Puck's apprentice at Spago, formerly located here in West Hollywood. Restaurateurs Peter Silkin, 26, and Alex Vasilkin, 26, were inspired by Japanese scientist Dr. Masaru Emoto, who claims that  positive human consciousness can alter the molecular build-up of water. Inspired by Emoto's theories, the interior of the ROFL Café is decorated with the most positive words you can imagine: love, joy, happiness and laughter.
Recap: Prez Visits Westside
President Barack Obama arrived in Los Angeles Sunday (Oct. 6) to participate in three events in the area joined by President Bill Clinton and George Clooney.
Air Force One landed at 1:10 p.m. from Washington, and President Obama was quickly en route to an event at the Beverly Hills home of DreamWorks Animation CEO Jeffrey Katzenberg in the hills above Sunset Boulevard. No media were allowed to attend. Obama's campaign press secretary, Jennifer Psaki, described it as "a thank you event for a small group of donors."
Afterward, Obama and Clooney motorcaded  downtown to attend the "30 Days to Victory" concert at the Nokia Theatre, which featured performances by Jon Bon Jovi, Earth, Wind and Fire, Jennifer Hudson, Katy Perry and Stevie Wonder. Mayor Antonio Villaraigosa and San Antonio Mayor Julian Castro, the keynote speaker at the Democratic National Convention, spoke to about 6,000 people who had purchased  tickets at prices ranging from $44 to $2,500.
Following the concert, Obama spoke to about 150 guests at a $25,000 per-person fundraising dinner at WP24  at the Ritz Carlton at L.A. Live. Proceeds from these fundraisers will benefit the Obama Victory Fund, which is a combined effort of Obama for America, the Democratic National Committee and several state Democratic parties.
– Information from city and staff reports