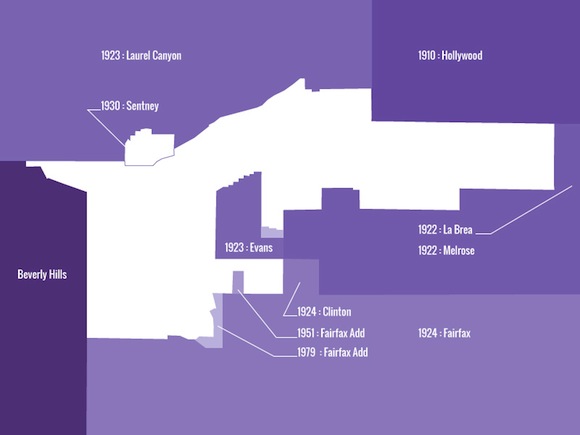 As Los Angeles expanded during the 20th century new districts and suburbs were created by annexing land from neighboring areas. West Hollywood long resisted incorporation into the encroaching city and its borders today reflect both the variety of external forces and the local desire to retain the area's distinct and autonomous identity.
This autonomy was what drew many to West Hollywood initially, including the speakeasies of the 1920s, celebrity clubs of the 50s, hippy and rock and roll culture of the 60s and the homosexual community—each sought refuge from Los Angeles Police Department raids and harassment within West Hollywood's borders.
Each annexation (see map above) has a story of its own that reveals the reason for the jagged borders. For example, the 1979 addition to the Fairfax district included land that was specifically acquired by Los Angeles for the construction of the Beverly Center, which was finished in 1982.
As a city logo, the outline of West Hollywood is a reminder of the city's retention of its identity by maintaining its geography.