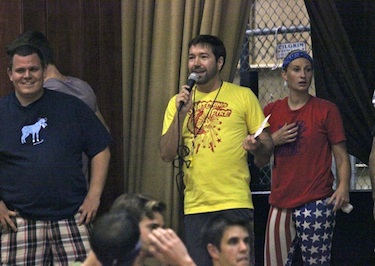 "Dodgeball: A True Underdog Story" is a classic losers come-from-behind tale, featuring a band of misfits — a former softball-playing bisexual, a cripple, and a pirate — facing off against a former fat kid turned seriously fit.
It's a tried-and-true Hollywood storyline, and that means much of it is completely made up.
That's why we turned to WeHo Dodgeball founder Jake Mason to set things straight. Mason helped us comb through the movie for the five biggest similarities and differences.
Amazeballs, That's the Same
Outrageous Costumes – "They nailed it," Mason said. "I've played on teams where we dressed up like video game characters. I played dodgeball at the Staples Center in a Donkey Kong costume … We've done 'Thriller' in the middle of a game before dressed as zombies."
Facial Hair – White Goodman sports a tremendous 'stache and several of the WeHo dodgeballers rock some great moustaches, beards and goatees. Expect to see even more mo's during Movember next month.
Crazy Team Names – Though they aren't featured prominently, the Dodgeball movie snuck in several ridiculous names, including: Moose Knucklers, The Gay Gang, She Mullets and New Orleans Clown Punchers. It's the same locally. "Look at the team names. They are hilarious," Aaron Fox said of the WeHo league that features Power Bottoms, Thar She Throws and It Gets Butter. "I mean I'm on a team called 'Ballz Deep.' They're all pretty funny."
Camaraderie & Post-Game Celebration – The teams in both league and movie bond over their shared battles on the dodgeball court, and participate in post-game celebrations at a local bar. For the West Hollywood league, the local bar is GYM Sportsbar, one of the league sponsors.
Big Tournament in Vegas – If you're going to throw a big sports tournament, you might as well do it in Las Vegas. For Peter La Fleur and his band of misfits, it was a $50,000 prize and the ADAA Championship. WeHo Dodgeball? "We're doing a huge, huge national tournament in January," Mason said. "We're inviting New York, Chicago, San Francisco and all these other dodgeball leagues to come out for a big, huge social tournament (the Sin City Shootout)."
Ballz Deep in Contradictions
Not as Violent – "I think Dodgeball the movie makes it seem a little more violent than it really is," Mason said.
You won't find WeHo players repeatedly hitting a person after he/she falls to the ground, or a deliberate blow to the face like the one Ben Stiller delivers to real-life wife Christine Taylor in the championship game.
No Wrench Dodging – While West Hollywood dodgeballers might have to "dodge, duck, dip, dive and dodge" away from a scorned lover or an old flame, Mason assured me that the training schedules are hardly as rigorous as Patches O'Houlihan's wrench and traffic dodging. WeHo Dodgeball actually uses "no sting," softcore rubber balls rather than the monster red rubber balls you used in elementary school.
Lance Armstrong was Inspirational – Armstrong tells a despondent La Fleur, who is contemplating quitting, that he is "sure this decision won't haunt you for the rest of your life." Ummm … whoops.
Headshots Allowed – In direct contrast to the WeHo league rules, headshots are allowed and even encouraged in the movie. "When I see them throw the face shots and the nut shots and things like that, although it happens, it seemed to be a lot more brutal in the movie than it is in real life," Mason said. In WeHo Dodgeball, a player is not out if hit by a headshot while standing, and players can be called out by the referees for repeated high throws.
Number of Players – Each side begins the game with 20 players, rather than the smaller participant numbers seen in the movie.