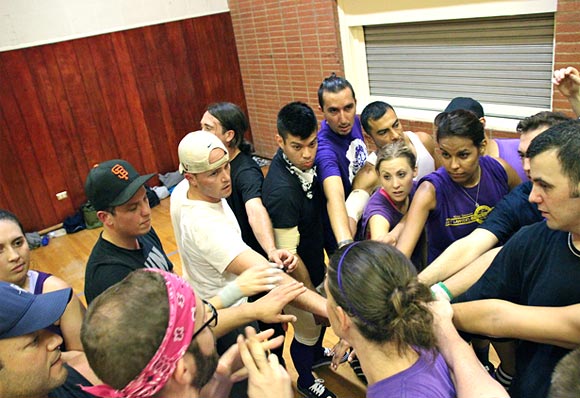 [dropcap]W[/dropcap]ith a pair of dodgeballs in his hands, Jake Mason seemed to be in control of his team's fate Tuesday night at the West Hollywood Park gym.
He thought he had the advantage, but as so often happens when things get hot and heavy in the WeHo Dodgeball league, it quickly turned.
Suddenly, Mason was fending off balls aimed at him.
In an encounter with a "Teabagger," Mason ducked his face under one throw headed for his chin, and looked to end the whole affair with a catch. The idea was to caress the throw into his body, but the body didn't cooperate.
The "no sting," soft-core dodgeball ricocheted off his arm, hit his chest and bounced hopelessly away. Game over. Mason was left looking to the rafters in disbelief.
But Mason didn't pout, cry foul or fume, because this isn't the type of dodgeball you've seen on TV, or the kind you experienced in middle school. There are more laughs than bullying, or intentional headshots, here.
In a flash, Mason — the founder of WeHo Dodgeball — jogged across the court to congratulate the victorious Teabaggers, before another round of dodgeball began.
Such is the life in the tremendously popular West Hollywood dodgeball world.
In its first season since breaking away from the World Dodgeball Society, the WeHo Dodgeball league sold out 280 spots in less than 10 minutes. When Mason opened up more roster positions to people on the waitlist, they sold out in 12 minutes.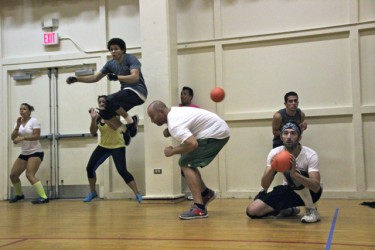 After two weeks of play, the league currently features 308 active players on 14 teams, with another 37 people on the waitlist. According to Mason, WeHo Dodgeball is the largest single dodgeball league in California and the biggest league in the country that predominantly serves the LGBT community.
A sense of community is what's driving the success. The players say that the competition is fun, but the sense of community brings them back.
"Everyone is friends, and maybe it's because of where (the league) is," said Aaron Fox, a member of Ballz Deep. "But everybody gets together, cooks barbecues, goes to the games, goes to the bar after the game, trades emails during the week. I don't know why that doesn't happen elsewhere, but it does here."
Previously, Mason formed the first WeHo Dodgeball league as part of the rapidly growing World Dodgeball Society, where he spent more than three years including time as league manager.
"As the World Dodgeball Society grew, it was taking my focus away from here and this is my pet project, my baby," Mason said. "I decided to leave WDS and come over and focus on West Hollywood and make it more community-centric."
The current league sponsors events outside the gymnasium to encourage people to meet and get to know each other.
"When everybody sweats together…everybody works together, at the end of the day that builds the bond," said league social coordinator Jeb Whitlock.
After Tuesday night competition, players are encouraged to head to the league's sponsor bar, GYM Sportsbar. To help entice the dodgeball combatants after a hard-fought game, each losing team gets the first pitcher of beer for free.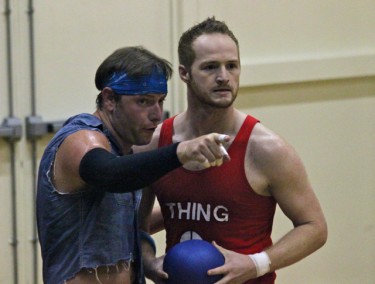 On any given Tuesday night, you're likely to see GYM Sportsbar brimming with 20- and 30-year olds dressed in wacky team t-shirts and short shorts.
"You're not clawing your way to the top of the dodgeball ladder," said Gordon Bellamy, a player on Tuesday Night Lights. "It's not the entertainment industry. It's not some other construct; it's just dodgeball. People aren't in it to push themselves up further, but just to have fun."
Some teams organize their own events. Jenna Loomer, the social coordinator for Ballz Deep, said she has three team nights planned this season.
Even after signing up for the league thinking it was work-related, Loomer stuck with it because she so quickly made friendships.
"As an adult, where do you meet people besides work and bars?" Mason said. "People that don't know where to meet people, come here and meet people and make friends, alliances, and acquaintances."
"This league has brought together 20-somethings to 30-somethings," said Cara Shapiro, a member of Thar She Throws. "We came together because we love sports. I didn't meet these bitches at a bar. Sure, I'll go with them after dodgeball and have a drink, but I met them centered around an activity that we all love."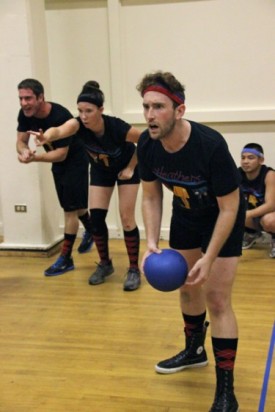 Mason said league members "promote it like crazy." Team members wear their dodgeball pride like a badge of honor, he said.
Several local businesses, including Chop Stop, Fiesta Cantina, LASC, Santa Palm Carwash, and several others, have agreed to provide discounts for dodgeball players. West Hollywood city councilman John D'Amico has come out to participate in the dodgeball action. Mason also received a certificate supporting his efforts from California Senator Diane Feinstein last week.
"My goal with the new WeHo Dodgeball league is to organize a lot of community building events," Mason said. "We have a Dodgeball Works program now. We're going out to do charity events at least every couple months, sponsored by WeHo Dodgeball. We're also doing charity tournaments."
One of those charity tournaments will be the Sin City Shootout in Las Vegas. WeHo Dodgeball is inviting LGBT leagues from New York, San Francisco, Chicago and other cities.
"Honestly, I think as a community, we always look for social proof that we were here," Bellamy said. "Whether that be buildings or statues or institutions, and I think that this (league), crossed with time, will be a very positive institution for our community."
[hr]
 SCENES FROM THE LEAGUE
[hr]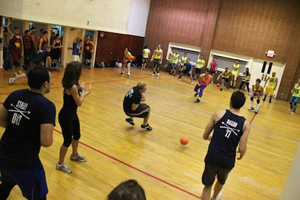 For the most part, Dodgeball is a safe sport. For the most part…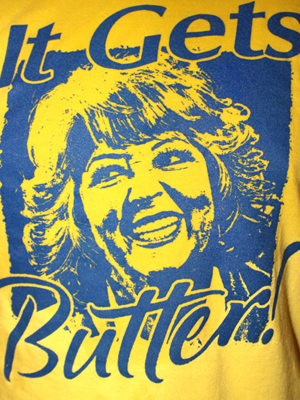 Our favorite outrageous unis from the WeHo Dodgeball League
[hr]
LEARN ABOUT DODGEBALL
[hr]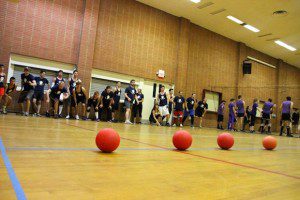 A crash course in the four main positions, and most important terms used in the game.
[hr]
FOR FUN
[hr]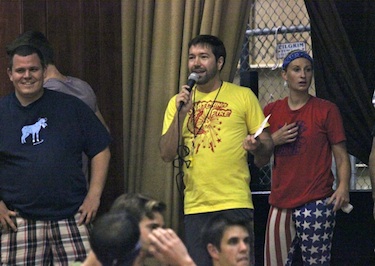 Yes, costumes are outrageous and there are plenty of 'staches. No, there's no wrench dodging.