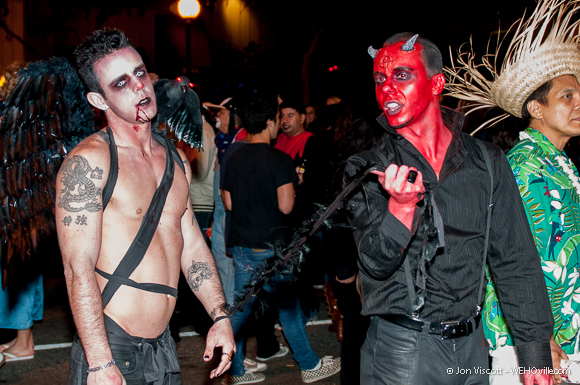 [dropcap]T[/dropcap]here is no holiday that gays and lesbians love more than Halloween. That's especially true in West Hollywood, where Halloween rivals Pride.
This year Halloween falls on a Wednesday, which might make it subdued in less exciting cities. But not in West Hollywood, where 500,000 people will be looking for fun and mischief. The week leading up to Wednesday's Halloween Costume Carnaval also will be filled with frights and delights in and around WeHo. Here are some best bets for the LGBT crowd:
[hr]
Friday, Oct. 26
[hr]
The fright-filled festivities get off with a bang Friday the 26th with Gay Men's Chorus LA's 7th annual Halloweenie. With its world-class electronic DJs (Aron, Beau Dasher, Ryan Kenney, Derek Monteiro, and Blacklow) and other over-the-top entertainment, this ghastly gala is one of the most anticipated events of the season. With its new location at Stage 7 of The Lot (home to HBO's vampire soap opera "True Blood") and a bevy "gHosts" who include many of gay WeHo's best known residents, this year's party promises to be exceptionally spooktacular.
The Black Carpet rolls out at 9 p.m. and is rolled up at 2 a.m. General admission tickets (ages 21 and over) available online for $100. VIP tickets sold out. Ticket prices begin at $100. Admission includes hosted bar, dancing, complimentary studio-quality photos. Parking is $15. 1041 N. Formosa Ave.
[hr]
Saturday, Oct. 27
[hr]



Dia de los Muertos, the Mexican Day of the Dead, is that time when the veil between this life and the next grows thin, and the living pay homage to the dead. On Saturday the 27th, Hollywood Forever Cemetery hosts the largest Dia de los Muertos celebration in California. There will be a wide range of Mexican cuisine, arts and crafts, and a competition to honor the best ceremonial altar. The event will also include a dance plaza featuring historic and modern dance rituals and musical performances by La Santa Cecilia, Very Be Careful, Ozomatli, Las Cafeteras and Tribu.
Open noon to midnight to all ages. Day of the Dead costumes encouraged. Admission $10, with children 8 and under and adults 65 and over free before 4 p.m. 6000 Santa Monica Blvd. near Gordon Street.
The Day of the Dead festivities end at midnight, which gives you time to rush back to West Hollywood for Revolver's first annual Costume Contest. General Manager Jeffrey Bertollini and his gang of ghouls have been working extra hard to deck out the bar in spectral splendor. It looks very spooky/sexy ("spexy?" No, definitely not "spexy."). The competition begins at 12:30 p.m. First prize is $200, second prize is $100, and third prize is a $50 bar tab. Open to all ages 21 and over from 8 p.m. to 2 a.m. No cover. 8851 Santa Monica Blvd. at Larrabee. 
[hr]
Sunday, Oct. 28
[hr]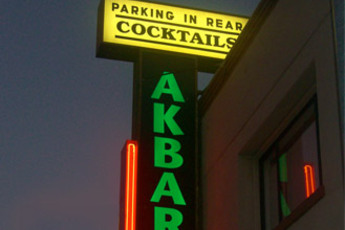 On Sunday the 28th sneak over to Silver Lake for Akbar's final parking lot party of 2012.
There won't be any contests, but there will be a chance to drink cheap beer in the sun while dancing to an awesome line-up of DJs from some of the East Side's finest parties (Bears in Space, Full Frontal Disco, Function, and Rock Steady Lounge) and a set by the legendary DJ Bob Mould.
Open to all ages 21 and up, doors open at 3 p.m.. No cover. 4356 W. Sunset Blvd., near Fountain.
[hr]
Monday, Oct. 29
[hr]
Halloween is a very busy time for the the legendary Jackie Beat, Wicked Witch of West Hollywood (there are apples to poison and brooms to polish), so Monday the 29th she's sadly taking the night off from "Mascara Mondays," her weekly drag show at  The Abbey.
But stirring the cauldron in her absence will be WeHo's own Weird Sisters Detox Icunt, Vicky Vox, and Willam Belli of "Ru Paul's Drag Race" fame. You can expect these three ladies to serve up hilarity along with their wicked witchcraft.
Show starts at 10:30 p.m. (but arrive early!). Open to all ages 21 and over. No cover. 692 N. Robertson Blvd., just south of Santa Monica.
[hr]
Tuesday, Oct. 30
[hr]
Drink plenty of liquids, carb-up and get plenty of sleep because you've got a helluva day ahead of you.
[hr]
Halloween
[hr]
The real fun begins Halloween night, Wednesday the 31st, when the City of West Hollywood will close a mile and a half stretch of Santa Monica Blvd. from Doheny Drive to La Cienaga. Half a million vampires, aliens, ghosts and goblins will descend on the Creative City for an evening of spectacle. The evening begins with the Halloween Parade at 7 p.m. followed by the Consume Contest, the crowning of the Queen of the Carnival, and six stages of entertainment featuring world class drag performers, DJs, dancers and live musicians.
Event runs from 6 to 11 p.m. and is open to all ages, but probably unsuitable for young children. No admission charge. Metered and permit parking restrictions will be suspended from 11 a.m. Oct. 31 to  6 a.m. Nov 1. Parking is available for $20 at various city lots (http://www.weho.org/index.aspx?page=1180)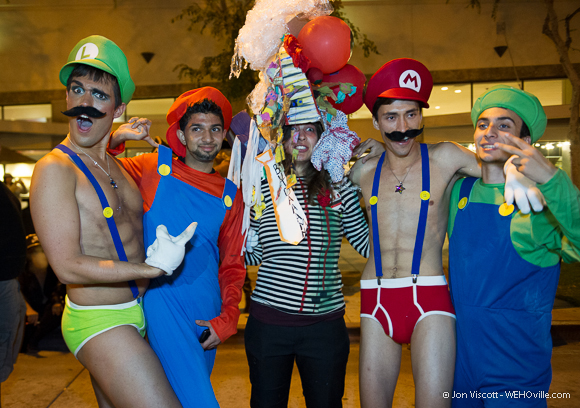 Finally, after you've taken in taken in Carnaval make your way to Factory Ultrasuede for Sexorcist, the unholy love child of four of LA's premier event producers: Mario Diaz (BFD), Justin David (Grunt), Andres Rigal and Luke Nero (Rasputin). With three huge rooms of unspeakable evil including the Dark Cathedral and the Helter Skelter black light room, DJ sets by Josh Pierce, Casey Alva, Lunch Lady, and Aaron Elvis, ghoulish go go-boys and priestly bartenders to exorcise your demons and dole out penance, Sexorcist promises to be the perfect conclusion to your week of Halloween hijinks.
Open 8 p.m. to 3 a.m. to ages 21 and over. Tickets $10, available online Tickets begin at $10. 661 S. Robertson Blvd., south of Santa Monica.