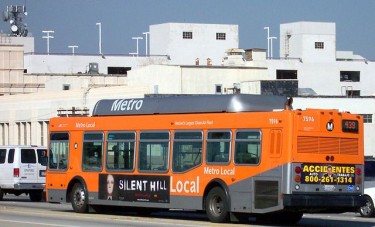 So you're coming from out of town to West Hollywood to celebrate Halloween? The most frightful thing you'll encounter is the traffic. When 500,000 people pack into a 1.9 square mile city (and most of them will be on Santa Monica Boulevard between La Cienega and Doheny) it's going to be hard to move your body, much less your car. If you insist on driving, the city offers several parking options. Here's a list of garages and lots, all of which will charge $20 for the day.
Permit parking is suspended from 11 a.m. Halloween day to 6 a.m. the next morning, which means you can anger we WeHo residents by taking our street parking spots and not risk a fine.
But we suggest you take the bus. You know, one of those elongated vehicles that seat several dozen people and are steered by a single driver. Car-crazed Angelenos usually know a bus as something that blocks their way when they stop on the street. The best way to figure out what bus will get you where is the MTA's route planning site. Forget the Metro Rail, our subway. The closest it gets you if you're coming from downtown LA is Vermont and Santa Monica Boulevard, a good 1 ½ hour walk.
While you're in West Hollywood, remember that there's more to see than what's going on along Santa Monica Boulevard. From 5:30 p.m. on Halloween until 12:30 a.m. the next morning, West Hollywood's CityLine offers free transport with a loop from La Cienega and Holloway to Sunset Boulevard. The city offers a downloadable map and schedule.
If you insist on driving, or if you're a West Hollywood resident who wants to get out of town before the crowds convene, remember that a number of streets will be closed. Here's the schedule.