Mehera Blum came to Los Angeles to act and was doing just fine at it – until she got mercury poisoning. Troubled with memory loss and fatigue (neither of which are good qualities in an actress), she journeyed to India to ponder what to do. She needed a side project and, slowly in 2005 and then with more intensity a couple years later, she launched her luxury handbag line Blumera. Her brightly colored, hand-cut creations have been featured in In Style, Life & Style and Vogue India. A long-time resident of West Hollywood, Blum recently had to close her boutique as her landlord made room for the new Restoration Hardware. She's on the hunt for a new storefront, saying "I'm very heavily involved living and working in West Hollywood."
[hr]
You traveled to India when you got sick. This sounds like a bold, Eat, Pray Love kind of move.
I grew up going to India. I'm not Indian, but I've probably gone over 30 times in my life.
Is that where the inspiration for the bold blues, pinks and reds in your bags comes from?
Yes, and my mother is a painter. She also shared that love of bright colors.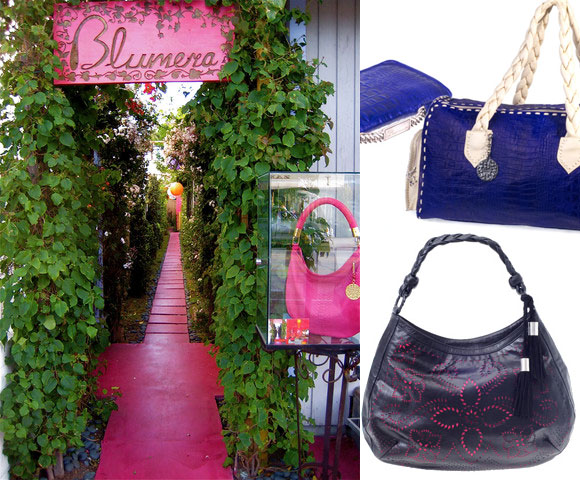 Do you think these colors meld well with West Hollywood's youthful inhabitants?
I think it appeals to the community's sensibilities. I would definitely consider West Hollywood a colorful city.
Do you think your handbags attract people with loud personalities?
Yes, but I also notice that people who are more shy may be more nervous about my bags, but they really want to underneath. They bring out a confidence to do something they want to do.
Where do you get inspiration for the styles of your bags?
I do what I need and what is interesting to me. I'm not really sure where the inspiration comes from. It's a flash of inspiration or intuition. I don't research. I don't look at what other people are doing so much. I don't see what's on trend. That's not so interesting to me. I usually find my intuition ahead of the trend.