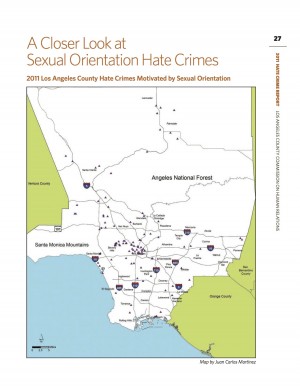 Hate crimes based on sexual orientation increased by 13 percent last year, with 84 percent of the sexual orientation crimes targeting gay men, according to a report recently released by the Los Angeles County Commission on Human Relations. Thirteen percent of sexual orientation crimes targeted lesbians.
The report says sexual orientation was the motive in 25 percent, or 122, of the 489 hate crimes reported in the county in 2011. Seventy-one percent of crimes based on sexual orientation were violent crimes, a much higher percentage than in crimes based on race or religion.
The 2011 increase remarks a sharp reversal of three years of decline in reported hate crimes. The commission notes, however, that reports of hate crimes in 2010 and 2011 were at the lowest level in 32 years. The commission also notes that a National Crime Victim Survey by the U.S. Justice Department found t hate crimes occurred 24 to 28 times more often than was reported by police to the FBI. It cites a number of reasons for underreporting, including fear or retaliation and negligence by police.
The report doesn't break out sexual orientation hate crimes based in West Hollywood. It does say that Latinos represented the largest percentage of victims of hate crimes county wide based on sexual orientation (44 percent). That was followed by whites (39 percent) and African-Americans (12 percent). Asians accounted for four percent.
Forty-two percent of these crimes took place in public, 36 percent in homes, 10 percent in businesses and six percent in schools. Of the 16 hate crimes against lesbians, only one involved a family member. Seven were attacks in public by a man. Three found homophobic comments written on their houses or cars.
There was a reduction in homophobic hate crimes in schools, with only six reported in 2011 compared to 10 the previous year. In two of those cases, children 13 or younger were attacked by other students.
In its report, the Human Relations Commission gave these actual examples of sexual orientation hate crimes:
Feb. 29, Palmdale—A Latino male was walking home from a party. A vehicle pulled alongside him and another Latino male exited the car and punched the victim in the face, yelling, "Faggot!" The victim said, "I just want to go home. Why are you doing this?" The suspect answered, "Because you're a fucking faggot!" and kicked the victim in his ribs, head, and back. "I'm going to kill you! M.S.!" (Mara Salvatrucha gang)
April 8, Canyon Country (unincorporated)—An openly gay white male victim was sitting in a chair on the porch of his residence. A white male suspect yelled, "Fucking faggot!" and pushed the victim face-first down the stairs into a pile of rocks. The suspect was arrested and booked on suspicion of assault with a deadly weapon.
June 6, Pico Union—A Latina female was waiting at a bus stop when a Latino male approached her and asked, "What are you trying to be? A man?" He grabbed the victim's throat. The victim struck the suspect's face and he fled the scene.
Nov. 6, West Hollywood—An Asian male was walking when a Latino male driver pulled up. The victim believed the motorist was going to ask for directions. Instead, the suspect said, "You fucking fag. You should all die and burn in hell." The suspect then punched the victim in the face before getting back in his car and fleeing the scene.
Dec. 25, Claremont—The Claremont United Methodist Church displayed a nativity scene for the holiday season featuring the silhouettes of three couples holding hands: two men, two women and a heterosexual pair. The images of the gay and lesbian couples were knocked over and vandalized.
The commission has a number of programs designed to reduce hate crimes. They include:
The zerohour: No Haters Here! youth initiative, now in its second year of a three-year pilot program in five Los Angeles County high schools, works with students, teacher, parents and school administrators to embed human relations culture into the culture of a school-community and achieve a safe and culturally appropriate learning environment.
The Hate Crime Victim Assistance & Advocacy Initiative works to educate specific underserved communities to recognize and report intolerance and hate crimes, to assist victims in accessing culturally and linguistically appropriate services, and to advocate on behalf of victims for institutional changes that can reduce hate crimes.
Human Relations Mutual Assistance Consortium is a partnership of city-based human relations organizations, city representatives, school officials and community members who come together to receive and share support and assistance in managing tensions between groups of different cultures, ethnicities, race and religion.