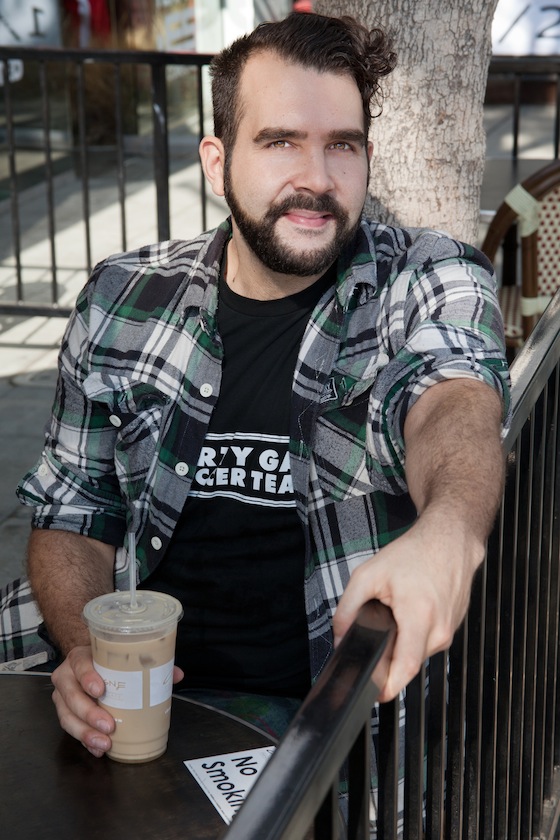 [dropcap]D[/dropcap]espite relocating to a new coastline just two years ago, Jonny "Gay Pimp" McGovern hasn't missed a beat. In West Hollywood, and far beyond, he is still a hit.
It was in New York City where he burst onto the scene in 2000 as a wildly popular, openly gay performer and personality, mixing satire and character comedy into his nightclub acts, albums, music videos and a bi-weekly gay themed podcast that he started in 2006.
Today, that podcast remains one of the more popular ones in the gay community, and on iTunes. "Gay Pimpin' With Jonny McGovern," is an uproarious, and irreverent 2-3 hours with Jonny and his friends — "homo homies," he calls them — bringing comedy, sex talk, music and "NSFW (Not Safe For Work) fun — Gay Pimp style," Jonny said.
A number of his music videos — warning, most are explicit — have been smash-hits on YouTube, including "Soccer Practice," "Dickmatized," "Sexy Nerd," and "Bossy Bottom."
Despite the big personality, when it comes to a perfect Saturday in West Hollywood, McGovern most enjoys the ease and access of getting about in the city, where he can take a leisurely walk with friends.
 [hr]
In his own words, here is Jonny McGovern's perfect Saturday in West Hollywood:
Though I am a New Yorker born and bred, I love West Hollywood. I moved here a year ago and I haven't looked back. It truly is the gayest place on earth. Not just because of the sex shops and the gay bars (though those are great); it just has a gay sparkle.
From a million tank-top wearing screenwriters and bloggers sitting at the coffee shops, to scantily clad joggers and dog walkers traipsing through the park, to drag queens turning the street into their own runway on the way to work — I love the full-frontal faggotry of WeHo.
Beyond that, I love how easily you can walk around the city. I can spend an entire Saturday visiting a bunch of places without getting in my car. It's such a rare thing for LA.
On a perfect Saturday, I'll get up at a leisurely 11 a.m., lift the teal eye-mask off my eyes, and roll into the living room for a coffee while The Barefoot Contessa, and her white-lady magic, plays on the TV in the living room.
Then I'll meet my fave Go Go boy Greg McKeon, aka "GRG," and we'll hit 24 Hour Fitness to take in the buffet of gay fashion and muscularity.
Next, we'll pretend to be interested in buying a gay bathing suit at LASC next door so they'll validate Greg's parking.
After the gym, I'll swing by Trader Joes for a few groceries. Yes, I'm rich beyond my wildest dreams from making YouTube hits, but I do love a bargain. Plus, I live nearby and can walk to the grocery store to avoid the nightmare matrix that is the parking lot!
I didn't learn how to drive until I moved here because I thought I would ride in NYC taxis like a gay princess my whole life.
Also, no driving means more time for gaily frolicking across the street! Why would I
gaily frolic across the street? Because in WeHo THE CROSSWALK is a
RAINBOW! That deserves some frolicking.
All my "Homo Homies," as I call them, live in WeHo. Being able to "swing by" yer friend's place is a luxury in L.A.
On Saturday afternoons, I'll pick up some "medicine" with my boyfriend, the kind you can smoke in a grape-flavored wrap. Then he'll play me whatever Boss Bitch rapstress he's loving that week.
Later, I'll take some time to work on the edit for an episode of my long-running podcast "Gay Pimpin' with Jonny McGovern" (find it on iTunes for free!)
Finally, I'll get all my homies together for drinks in the evening, probably at Fubar or Mother Lode because they most remind me of my fave gay dives in NYC. We'll gay it up and all walk home at the end of the night, free of taxicabs or drunk-driving worries because we all live a couple blocks away.
Hooray for Hollywood … WEST Hollywood that is!