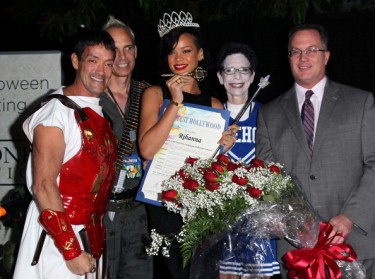 As if West Hollywood didn't have enough queens (you gay guys know what we mean), the city added another on Halloween night when it crowned Rihanna the Queen of West Hollywood at the Greystone Manor in LA (imagine if Elizabeth II had received her crown in Paris). In accepting the honor, the pop singer added another to her long list of honors, which include being named by Time magazine as one of the most influential people in the world, and being named the top performer in Billboard's Pop Songs Artists of 1992-2012 list.
Her Majesty, dressed in an appropriately tight black dress and carrying a scepter and wearing a tiara, acccepted the key to the city from Mayor Jeffrey Prang. Looking on were council members John Duran, wearing a skimpy white toga topped with an impressive red piece of chest armor; John Heilman, in a military uniform drapped with what we hope were fake bullets, and Abbe Land, beaming in a bright blue cheerleader's costume. Prang's costume was a business suit with a striped tie.
"Thank you guys so much. I feel really special," Rihanna told the new subjects who massed beneath the stage where the honor was conveyed. "I do feel like a queen right now. I'm not even from this city, so it's a big deal to be honored in the city and by the gay and lesbian community. I will make you guys very proud."
With that Her Majesty turned to preside over a Halloween party at Greystone that attracted the likes of Chris Brown and Paris Hilton.