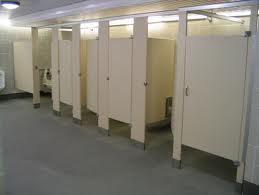 The L.A. County Sheriff's Department, which polices West Hollywood, has changed its policy on lewd conduct in public. Under the new policy, which took effect Oct. 31, the department will emphasize prevention over suppression says Roberta Abner, chief of the department's Leadership and Training Division.
Lewd conduct, the usual charge levied against someone engaged in sexual activity in public, is a misdemeanor. It includes receiving or giving oral sex in public, exposure of genitals in public and public masturbation. Police in most jurisdictions patrol public restrooms and parks to find and arrest those engaged in such conduct. Those arrested are often gay men who are closeted about their sexuality and seek anonymous sexual encounters.
West Hollywood Mayor Jeffrey Prang, in an interview with KPCC public radio, noted that lewd conduct arrests are "a historical issue in the LGBT community."
"Generally, lewd conduct, by definition, involves consenting adults," he said. But Prang complained that those arrested were treated like sexual predators. "They put them in jail and give them criminal records and make them register as sex offenders. While they may be engaged in some boorish behavior, it's differentiated from a sexual predator."
Abner said a better approach is to "post notices, improve the lighting, cutting back bushes and trees and making it so that people don't have the cover of darkness."
That is more effective Prang told KPCC. "A person gets arrested, they're humiliated, hides, and probably won't go back," he said. "But all the other people who were engaged in lewd conduct in that area continue to go back."
Prang said that West Hollywood has taken steps such as reducing the hours of public restrooms and that lewd conduct has diminished.