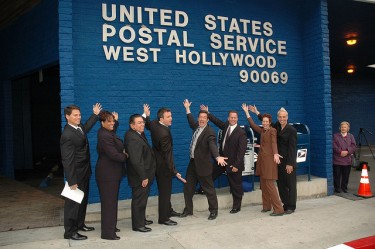 West Hollywood will keep its famed 90069 ZIP Code, but the Boystown post office may move to a new location. That's what U.S. Postal Service officials said during a public meeting held late Thursday afternoon.
About three-dozen people attended the meeting in West Hollywood Park Auditorium where Richard Maher, the USPS' public information officer for the Los Angeles area, detailed the service's dire financial situation which may force the move of the Boystown station, located at 820 San Vicente Blvd., just north of Santa Monica Boulevard.
Maher explained that the postal service, which receives no tax dollars, has lost $40 billion in the last six years, $15.9 billion during the fiscal year 2012 alone. That averages to $57 million lost every day.
"If we were a regular business, we would have already gone through bankruptcy and a complete reorganization," Maher said.
These loses are due to a 30 percent decrease in first-class mail volume since 2006. Maher said that first-class mail accounts for 50 percent of the USPS' revenue. Meanwhile, the volume of packages handled has increased since 2006, but the USPS makes less money off of packages.
Even though a first-class stamp is set to increase to 46 cents on Jan. 27, 2013, that will not begin to offset the losses. As part of a nationwide cost-cutting effort, the USPS plans to sell its Beverly Hills building, located at 325 N Maple Drive (at 3rd Street).
The retail portion of the Beverly Hills post office – counter service, package pick-up and post-office boxes – will be moved to a yet-to-be-determined new location in Beverly Hills. However, delivery operations for Beverly Hills will be moved to the 13,000-square-foot Boystown location under a proposal being considered.
With the Beverly Hills delivery operations moving to Boystown, the West Hollywood delivery operations will be forced to move elsewhere. The Beverly Hills and West Hollywood delivery operations can't be combined into the same location because the building is too small for both operations, and WeHo processes mail for ZIP codes beginning with 900, while Beverly Hills processes mail for ZIP codes beginning with 902.
The proposal is for West Hollywood delivery operations to be moved into the post office's Bicentennial station at 7610 Beverly Blvd. (at Curson Avenue).
Meanwhile, the retail operation, which only needs 4,000 square feet, will move to another location within the 90069 ZIP code. Where that new location will be has yet to be determined, but Maher said they hoped it would be very close to the current location.
The idea of moving the Boystown station upset the attendees. Many said they liked the location, finding it easy to stop in as a part of their errands. Attendees said the post office was unlikely to find a better location anywhere in the area.
"If you look at the area around the West Hollywood post office for the best location to put a public counter and parking, it would be where you are right now," said Mayor Jeff Prang. "It seems counterintuitive to spend money on rents in this area. Parking in this area is very expensive and very rare."
Mayor Pro Tem Abbe Land asked if they were going to do an Environmental Impact Report since traffic would be greatly impacted by such a change.
"We're going to have the impact from Beverly Hills and none of the benefits," said Land, who also pointed out that closing the Boystown station to public use would create a "dead spot" in an important commercial area of town.
Land said the City Council would take up this issue at its Nov. 19 meeting.
Maher said it would be at least a year before any changes would be made. If a suitable new location can't be found, then the Boystown station would stay where it is. The post office has leased that space since 1969.
The public comment period regarding this possible relocation ends on Nov. 30. Submit written comments to:
Diana Alvarado
Pacific Facilities Service Office
U.S. Postal Service
1300 Evans Avenue, Ste. 200
San Francisco, CA 94188-8200