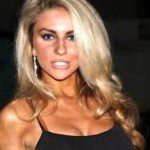 Those of you worried about the "fiscal cliff" and the situation in Syria can take a break and contemplate West Hollywood's version of a major controversy. Publicists for Courtney Stodden are fanning what little flames there are in an effort to ignite a conflagration over the Abbey's decision to rescind its invitation to the 18-year-old reality TV star for an evening of singing and pole dancing on Thanksgiving.
"The reasons for the cancellation provided by SBE (owner of the Abbey) are a mystery to us and based on fear, in our opinion," Stodden rep Jim Strzalkowski said in a statement quoted by E! News. "It is most unfortunate that a venue such as the SBE-controlled Abbey needs to approve and censor performers that audiences want to see, and would not be able to control the crowds and paparazzi anxious to see Courtney's show."
"It was too much for the Abbey to handle, too much press and controversy," said Stodden's mom, Krista Keller. "Courtney's not disappointed. She rolls with the punches."
Stodden's claim to fame is her marriage, at age 16, to a man 35 years her elder and her subsequent appearances with hubby Doug Hutchison on the VH1 reality television series "Couples Therapy" to discuss their relationship problems.
"Courtney Stodden has a huge gay fan base and truly loves and adores everyone in the community," Strzalkowski said. "At this time, Courtney is heartbroken and we are currently seeking alternate opportunities for Courtney to make her debut club performance in West Hollywood."
An Abbey rep said only: "Her management approached the Abbey but ultimately she just wasn't a fit."
Maybe Courtney should check out Gold Coast?