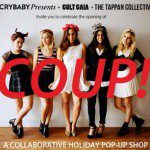 Wondering what the buzz was about Saturday night at the former location of the New Image Art gallery on Santa Monica Boulevard near Fairfax? It was all around a hive named Coup that attracted a swarm of the area's trendy and artsy types. Coup is a collaborative "pop-up" shop that features apparel, accessories, housewares, jewelry and art from Crybaby Presents, the Tappan Collective and Cult Gaia.
It further enlivens — for two months at least — a formerly quiet couple of blocks that recently came to life with the opening of Laurel Hardware, the restaurant occupying the space that previously housed the eponymous hardware store.
Crybaby Presents, founded by Dakota Solt and Lisa Ziven in 2011, describes itself as a "curated concept store and clothing brand that integrates fine art, fashion, product design, and pop-culture." Solt and Ziven collaborate with artists in their designs.
The Tappan Collective was founded by Los Angeles natives Chelsea Neman and Jordan Klein after their graduation in 2010 from the University of Michigan. Tappan provides an online platform that connects emerging artists to collectors seeking innovative artwork at affordable prices. In addition to original art, the Collective offers limited edition prints.
Cult Gaia's unusual headwear, which includes hand-crafted floral crowns, polkadot headbands and structured turbans, among others, is curated by Jasmin Larian, an Angeleno who is a graduate of New York's Fashion Institute of Technology. Cult Gaia's products have adorned the heads of celebrities such as singer Miley Cyrus and rapper Kreayshawn,
The shop, at 7908 Santa Monica Blvd., will be open from 11 a.m. to 6 p.m. Tuesdays through Saturdays and from noon to 5 p.m. on Sundays until New Year's Day.