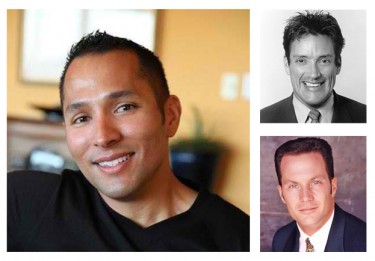 West Hollywood's municipal election may not be until March 2013, but Monday night's City Council meeting offered a glimpse of how contentious that election will likely be.
Before the meeting even began, the Council Chamber was abuzz with talk of Micky's bar in Boystown backing out as the location for the West Hollywood Term Limits group's party on Tuesday night to celebrate qualifying for the March ballot. Council candidate Steve Martin has alleged that Micky's reneged on its agreement with only 48-hours notice because Councilmember John Duran applied pressure on its owner. Scott Schmidt, an organizer of the Term Limits campaign, says the group has found another venue but won't announce its location publicly for fear that pressure will be put on the business hosting the event. WEHOville's attempts to verify Martin's allegation with Micky's has so far proven unsuccessful. Duran has not responded to a phone call and email message from WEHOville about the allegation.
During the public comment period, more accusations were made as Christopher Landavazo, a sheriff's deputy who is running for City Council, accused Duran and Mayor Jeffrey Prang (both of whom are up for reelection in March) of using bullying tactics to keep businesses and residents from supporting his candidacy.
"Mr. Prang and Mr. Duran, let me make this very clear, I am the candidate and if you want to target someone, I am standing right here," Landavazo said. "Your actions make it clear that we have not learned from the campaigns of the past which have left deep fractures in our community and on our council. The mere fact that both of you would feel so entitled to even engage in such thuggery to save your seat is the exact reason I am running for City Council."
Landavazo then called on those two incumbent candidates to abide by ethical standards for conducting campaigns. He asked that they complete the State's Ethics Training Course and to sign the Code of Fair Campaign Practices with him.
"Given that your campaigns are both being run by [lobbyist] Mr. Steve Afriat," Landavazo said, "as much as I dislike your politics, as your friend, I would hate to see either of you charged with a violation of the RICO Act."
RICO is an acronym for the federal Racketeer Influenced and Corrupt Organizations Act, which authorizes criminal penalties and civil lawsuits for acts performed as part of an ongoing criminal organization. While generally used in situations that involve financial gain, a court has authorized a RICO suit against anti-abortion activists accused of conspiring to block access to an abortion clinic. Neither Prang nor Duran responded to Landavazo's allegations.
Furthermore, after the city council meeting, Landavazo published a blog post on his campaign web site, with a copy of his speech to the council.
"Landavazo campaign supporters recently reported receiving e-mails, text messages and phone calls pressuring them not support his candidacy," Landavazo said in the post. "After learning of other candidates, initiatives and business owners experiencing similar bully tactics, Landavazo vowed to bring law and order back to the democratic process here in West Hollywood."
The accusations then continued as other residents spoke about the term-limits initiative, which if approved by voters in March, would limit City Councilmembers to three four-year terms. The initiative would not be retroactive; all current councilmembers would be allowed another 12 years in office, if the voters keep electing them.
The council voted unanimously to put the term limits measure on the March 2013 ballot, its only option other than to adopt it without a referendum.
Earlier in the evening, Duran paid tribute to his late Historic Preservation Commissioner, Bruce Kaye, who died unexpectedly on Nov. 6. Duran called Kaye, "a real advocate for preserving community history and architecture."
During his time at the podium, resident William Neish criticized the councilmembers whom he said were attempting to demonize or discredit residents who supported term limits. Neish also said that Kaye had collected a large number of signatures for the term-limits petition.
"It is people like Bruce Kaye that you are speaking about when you try to demonize people who are for term limits," Neish said.
Resident Ivy Bottini used her public comment time to speak against term limits, saying that term limits had forced good legislators like Shelia Kuehl and Jackie Goldberg (both openly gay) out of Sacramento.
"We have term limits, we call them elections," said Bottini. "Term limits is a nasty way to get rid of people that they can't get enough votes to be rid of in an election."
Martin, a former city councilmember (1994-2003) and a term-limits supporter who is also running for City Council in March, went to the podium to point out that neither Kuehl nor Goldberg would have ever gotten to Sacramento if not for term limits.
"Term limits have opened the door in an incredible way for gay and lesbian elected officials who never ever had an opportunity to serve," Martin said. "The number of women serving in the state legislature today and serving across the county today has been the result of term limits."
Later, resident Tom DeMille, who has run unsuccessfully for City Council four times, said that a kind of "Republican Guard" is in place preventing non-incumbents from being successful, from having access to meetings and from talking to residents.
"They're trying to hold onto power for as long as they can," DeMille said before surprising the audience by then announcing that he opposes term limits because it "divides our city."
Earlier in the evening, Scott Schmidt, who serves as the Term Limits Campaign Manager, called upon everyone to engage in a positive campaign.
"We can't make it personal, we can't make it about individuals," Schmidt said. "We have to talk about what we love about the city of West Hollywood and not talk about our anger about the transgressions against it. We have to give people hope that they can fully participate in the public process here in West Hollywood without being intimidated by someone who will call them out because they created a fundraiser for someone."
During her councilmember comments, Mayor Pro Tem Abbe Land, while making it clear that she does not support term limits, said the issue is now up to the voters to decide. She echoed Schmidt's sentiments hoping it would be a positive campaign.
"I think the less that we personalize it, the better," Land said. "Knowing us, there will be some personal stuff that happens . . . I hope that we can all agree to disagree whichever way it works."